British Invasion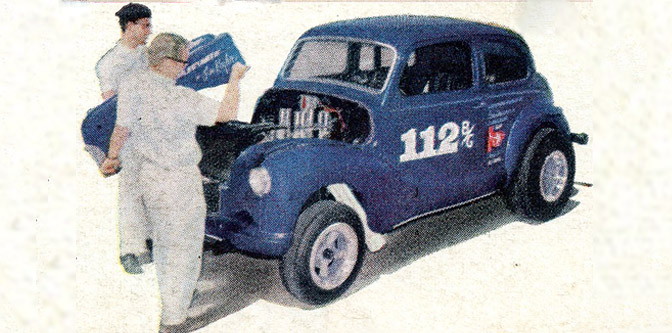 If you want to build anything worthwhile, it's going to take time. You know the drill: patience is key and research will always pay off. Throughout our hobby's history, it seems as if the older guys tend to have the best cars. Is it because they're more patient? Knowledgeable? Or just really good at collecting parts? Maybe so.
Keeping that in mind, it never ceases to amaze me when I see clean cars built by younger guys who just seem to get it. Take today's subject for example—Jim Kaylor's Austin A40 from San Diego, California. You see, Jim had recently turned 20 years old when he set out to build a little British sedan for the quarter mile. At this point, he had been loitering at the drag strip for more than a decade. "Enough is enough!" he must have said in a bout of frustration. "It's about time that I get out there and R-A-C-E!"
Before he could hit the asphalt, he transformed a tired little commuter into this candy blue warhorse. The car checks all the mid-'60s Gasser boxes from the CAE tube axle bolted to a transverse leaf spring to the Hilborn injected smallblock Chevy backed by a B&M Hydro. Five-spoke mags? Check. Piecrust slicks? Check. VHT white headers? You betchya.
There's no doubt that the car runs the right parts inside and out, but it's the fit and finish that really bring this sedan to a whole new level. Although Jim handled the majority of the work himself in his home garage, he did look to a man known simply as "Jack" in Claremont to spray the color. Sapphire paint, white lettering and a black interior—that's the ticket.
Dubbed "Ringo," Kaylor's Austin was state-of-the-art for the day. In an effort to get more power to the pavement, he built his own floating rear axle suspended by quarter elliptic springs. So how did it perform out on the drag strip? Unknown. It did, however, land a feature in the October 1964 issue of Car Craft. Even if it's not your cup of tea, take a quick moment to imagine building something this nice at the age of 22. Well done Jim, well done.
—Joey Ukrop
Photos by Bob Hardee, CC, October 1964
End Note:
Oh, wouldn't this tough-as-nails Austin look great next to this car in the pits somewhere in sunny So Cal? 
3

Comments on the H.A.M.B.