The Best Custom Material… 1961 Models.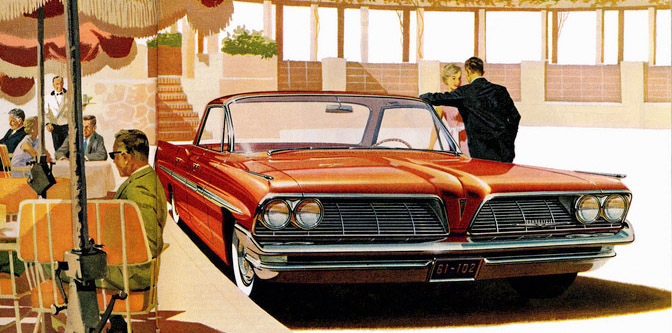 As exciting as it was to review Detroit's finest designs for 1960, much bigger changes were coming only a year later, as American cars shrank in their scale and opulence even more. Clean proportions and less brightwork were in full effect for the 1961 model year, and the majority of  new Detroit designs that year were simply stunning. So here we go with the same premise:
If you could go back to 1961 with a pocket full of cash for a brand new car, with the goal of building a stock-bodied mild custom, what would you buy? In your eyes, who had the best lines right off the showroom floor for a killer mild custom? If you pick the right model, it shouldn't take much more than lowering it, a little shave and a squirt of metal flake paint to have a real stand out. Here's my personal top 5 rides hit list, in order of what I would go for:
1961 Pontiac Catalina 2 door Hardtop– The bubbletop beauty with the skinny C pillar. The split grille was back for '61, and the Catalina was a smaller new model with some nice features.
1961 Lincoln Continental– The first year of one of the most elegant and iconic four door hardtops (and convertibles) of all time. Lincoln didn't always get it right in those days, but this one nails it.
1961 Chrysler 300- Those crazy canted quad headlamps, the tail fins that could cut open a safe. I wouldn't call it elegant, but with up to 400 hp on tap, it sure was rapid.
1961 Oldsmobile Starfire Convertible- Much like the Catalina in it's size, the Starfire was a buckets-and-console convertible that had some great styling from the front and the rear views.
1961 Dodge Dart Phoenix- I've always had a soft spot for this 'mid-sized' Mopar with its concave grille, dash-mounted rear view mirror, and optional 45 RPM record player. So weird it's cool.
31

Comments on the H.A.M.B.