The KOOKIE CAR is found too!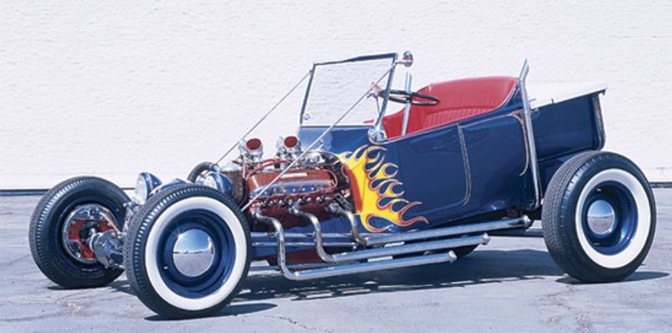 My post about the Golden Sahara II last week got quite a bit of buzz, mainly folks debating about the style and the historic significance of the car going to auction at Indy in mid-May. The other vehicle in Jim Street's collection worth noting is the original Kookie Car, which I would argue has far more significance than the Golden Sahara. Norm Grabowski built his jalopy from a cut-down '22 Model T Touring paired to a shortened Model A pickup bed, a severely chopped Deuce radiator shell, and powered by a Cadillac 331 V-8 reportedly 'borrowed' from his parent's car. Some claim Norm's car, originally dubbed Lightnin' Bug to be the birth of the T-Bucket, as appeared on the cover of the October 1955 issue of Hot Rod.
To make a long story short, Norm got into acting and the car appeared in many films, including "High School Confidential," "Darby's Rangers," "Hooper,"  "Roustabout," "Girl Happy" and "Towering Inferno." Then there were the Disney classics like "Son of Flubber," "The Misadventures of Merlin Jones," "Monkey's Uncle," "The Happiest Millionaire" and "Black Beard's Ghost." By 1957, Grabowski and his now-flamed T Bucket were featured in Life magazine for special on Hot Rodding culture, which got them both much wider recognition. This lead to Warner Brothers studios offer to feature the car as Kookie's ride in "77 Sunset Strip" where it was aired from 1958 to 1964. Heading into the 70s, the once-famous T had been modified many more times along the show car circuit and was then out of sight and mind.
So that leads me to today, where sadly you can see here that the original Kookie car needs a lot of love to ever get back to where it should be. On the other hand I would argue it is the single most significant T Bucket in the world, and probably in the top 25 most significant hot rods of all time. That makes it worth saving and restoring in  my book…
117

Comments on the H.A.M.B.