A Rail to Remember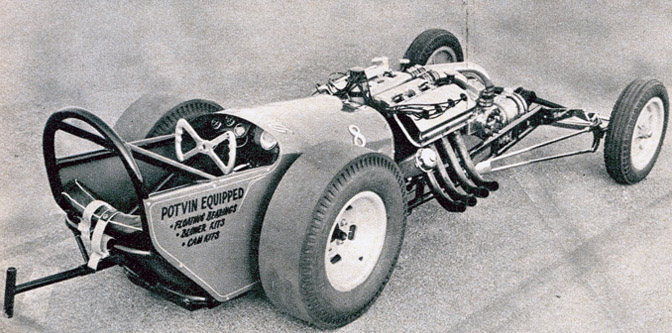 I've been pretty forgetful lately, or least I think I have been. I spent far too long on the phone yesterday trying to convince the airlines that my last-minute change of travel plans wasn't really my fault (it was). My truck's headlight is still burnt out (I need to fix that). I just realized I have booked a trip to the Midwest the same weekend I have company flying in from Seattle (I'll mark my calendar next time, I swear). As you can see, things are a just little out of sorts.
It's not just "life stuff" that I'm forgetting either. No, not at all. I was flipping through one of my favorite issues of Hot Rod Magazine—April 1961—when I realized that I had forgotten about today's subject smack dab in the middle of the book: the Greer brothers' "Drag-n-Fly."
The red and black slingshot was built and campaigned by Dale and Larry Greer of Seattle, Washington (sense a theme here?) at the dawn of the '60s. Constructed in a mere seven months, the car was nothing short of state-of-the-art for its day.
Starting with a homebuilt 101-inch chassis, the brothers installed a chromed '37 Ford tube axle up front complete with a four-leaf spring, custom friction shocks and chromed radius rods. In the rear, they opted for a Halibrand quickchange stuffed with 3.78 gears and bolted to narrowed '40 Ford axle bells. Magnesium Halibrands were the wheels of choice all around.
For power, the Greers put their trust in a Potvin-blown '55 Chrysler Hemi. They outfitted the 331 with a Potvin cam, Forgedtrue pistons, Grant rings and a Vertex magneto. The supercharger was a GMC 6-71 with a two-port Hilborn injecting the fuel (gas) from the front-mounted Moon tank. A Schiefer flywheel and a '37 LaSalle trans handled the transfer of power.
In this configuration, the digger dipped into the mid-10s at over 140mph, although Hot Rod reported that they were just breaking in the car at the time of publication. Regardless of what numbers it posted, this car absolutely nails the early dragster look—single hoop rollbar, front-mounted blower, sweeping weedburners and plenty of chrome and polish to compliment the simple bodywork slathered in bright red paint. Yes, I may be forgetting things a lot, but there's no question here—this is a rail to remember.
—Joey Ukrop
 Photos by Pete Sukalac
12

Comments on the H.A.M.B.