Jack's '36 Ford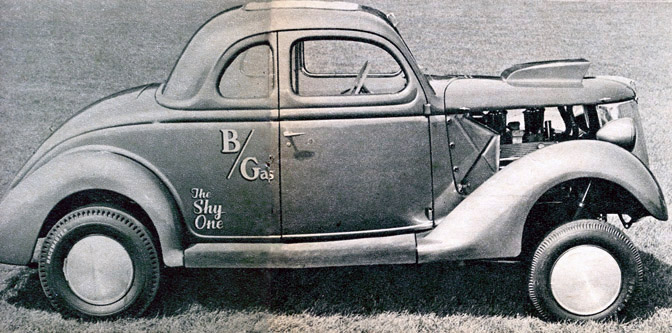 This article could start with an anecdote about how hot rods are the most genuine outlet for self-expression. We could set the scene, put us in a place and a time. Then, once things got moving, we could shift the focus to a much bigger concept—the scarcity of early Ford sheetmetal and the sacrilege of cutting up the ones that are left. Maybe we could throw in a quote about bravery, masculinity, or sticking it to the "man" by building the car how "you wanted." Maybe there would be a hero with a name like Jim or Bill or Max. How about Jack. Yeah! Jack. OK well here it goes.
The year is 1964 and Jack is 21 years old. He's a construction supervisor living in Hamburg, New York, and he wants to build a hot rod. He manages to track down a '36 Ford—a five-window coupe. Plenty of his friends are running around in little coupes and roadsters that have been channeled, some even chopped. A few guys he knew even built customs out of their '36s, but that's simply not for him. Instead, he wants to put together a competition machine.
So he does. Henry's sheetmetal stays mostly stock, but he lifts the nose skyward with a custom-built tube axle bolted to a transversely mounted leaf spring. He ditches the front bumper and hood sides, while he makes sure there's enough room for the steelies and piecrust slicks out back. A hood scoop and water-pipe bumper add a touch of hot rod flair and those '58 Corvette taillights are a nod to the customizers.
Then there's the driveline—a 345cid Oldsmobile equipped with the best of the best. Highlights include Hilborn injection, a Vertex Magneto, Racer Brown Cam and Jahns 11.5:1 pistons. The entire setup is linked to a B&M Hydro.
What about the interior? Blue and while rolls and pleats cover the door panels and the Corvette bucket seats too. The steering wheel is sourced from a Galaxie and the gauges are Stewart-Warner items.
So did Jack build his '36 for show? For go? The answer is yes. By the time it landed its first magazine feature, it had earned a pair of trophies on the indoor circuit but had yet to be tested out on the 1,320.
It's right about here where we could come to a conclusion, tying Jack Will's metallic blue '36 into the grand scheme of rodding. But not today. Instead, take a good long look at "The Shy One" and think about how wild it would have been to build and drive. Pretty crazy, isn't it? I'm sure Jack wouldn't have it any other way.
—Joey Ukrop
 Photos by Eric Dahlquist, Car Craft, April 1964
11

Comments on the H.A.M.B.