The Frank Mack Roadster: Preserved Perfection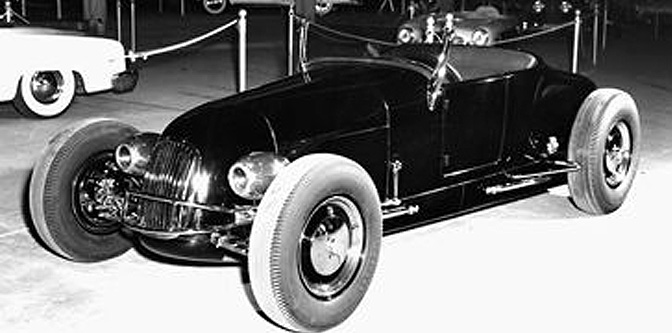 Think of your absolute favorite hot rod of the 1950s: Whatever jalopy from that pivotal decade that you really love: Doane Spencer's '32 roadster, the Pierson Brothers coupe, maybe it's even Richard Peters 'Ala Kart'… The one thing that almost all these iconic hot rods from that era have in common, is that at some point in the past 60 years they were recognized for being special and then had to be restored to their original form. Hot rods were built to be modified, raced, wrecked and rebuilt over and over again, so along the way they switched hands or got worn out and components were changed around. Only restoration would put them back to their very first look.
This is not the case with the extremely original Frank Mack '27 roadster, as I saw it sitting at the Petersen Museum last weekend. Here's another iconic 50s hot rod in Bruce Meyer's collection, but this one is of extra special for the fact that it has never been restored. Original paint, original interior, and everything else is pretty much exactly how this 'ImMACKulate T' was first presented at the Detroit Autorama in 1953. He went on to own the car for 40 years until Bruce acquired it, so she remained preserved as Mack first built her. Besides Ed Isky's T, I can't think of too many other historic hot rods of notoriety that can claim this level originality.
37

Comments on the H.A.M.B.