Top-5 American Automobile Designs
Every couple of years for the past decade, I've taken a minute to think about and list what I consider to be the top-5 best American Automotive designs in history. I do it without looking at or considering past efforts. This "clean slate" approach becomes really interesting after the list is made and I can go back and look how my tastes have changed since I last sat down. So, what am I waiting for?
1. 1936 Ford Roadster.
To me, it's the most gracefully sculpted American car of all time. I have the roadster picked in the #1 spot, but I think the 3-window is just as deserving.
……………………
2. 1965 Buick Riviera.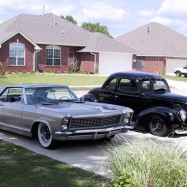 I love em all, but the '65 is the year that does it for me. It's a matured design that started pretty damn close to perfect to begin with.
……………………
3. 1932 Ford Roadster.
It's the body that started it all… and as cliche as it is to list, I can't stop myself from doing it.
……………………
4. 1938 Ford Deluxe Coupe.
I know, I'm a homer… But the longer I have my little coupe, the more I appreciate the lines of what many consider to be an "ugly duckling."
……………………
5. 1955/56 Lincoln Continental Mark II.
An innocent conversation with Gary Howard has ended with me being absolutely obsessed with these cars. Someday…
……………………
A quick glance at my 2006 list shows pretty respectable consistency. The only real change is that the shoebox Ford club coupe dropped off the list and the Continental was added. I guess Gary Howard will do that to ya… I still love club coupes.
And it just occurred to me that many of you posted your own list all those years ago and can perform the same exercise I just did. First things first, create your list and post it as a reply… Then, check it out from a historical perspective:
130

Comments on the H.A.M.B.