"Hitting the Trap" Bonneville Comic story 1952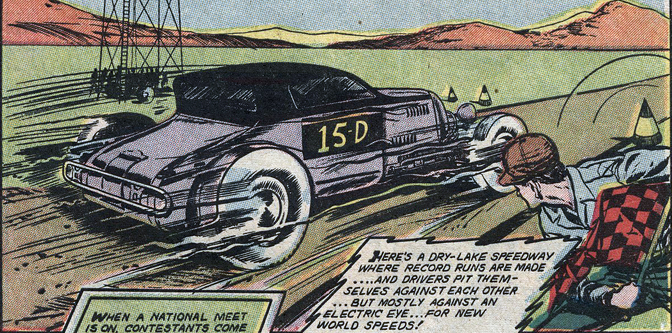 Since Ryan is frozen stiff in Austin and everyone seems to be hunkering down from the cold all over the country, it seems like a good time to get caught up on your reading. Today I've got the March 1952 issue of 'Hot Rods and Racing Cars' with their first special about Bonneville. Keep in mind that the SCTA had only staged three Speed Weeks at that point ('49-51), so the word was still spreading around the country about how unique the speed runs on the salt were. I also appreciate this particular publication because they were well-illustrated, did their research, and had decent stories, which many of the other hot rod comic books from this period cannot claim. Still, there are a few flubs: Like the Bonneville course becoming a colored road in random drawings or the Kenz-Leslie Streamliner being owned by 'Bill Benz'. Regardless, crank up the heat in your garage and enjoy!
2

Comments on the H.A.M.B.