Buzzin' Half Dozen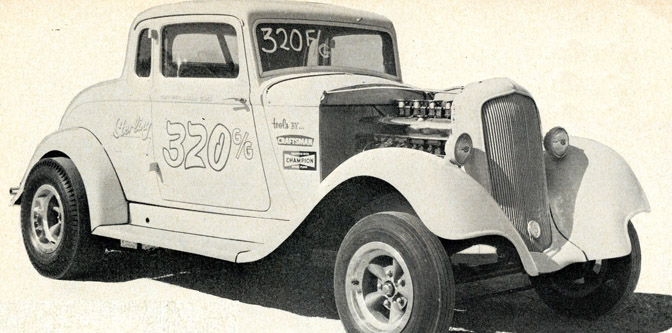 There's only one thing I like more than hearing the glory stories of drag racing's biggest names—and that's learning about the little guys. No, they didn't fill the grandstands at Lions or headline promotional posters or make their way into radio advertisements that broadcasted across airwaves coast to coast. These were the hometown heroes, the weekend warriors and the low-buck brawlers.
Sometimes short on cash but always big on ideas, these were the cars built in sheds, garages and brought to life at service stations after-hours. They may not have always been the fastest, but they certainly were unique. Today's piece isn't isn't a simple ode to the little guys—not by a long shot. Instead, it's a closer look at a Gasser that's, well, unexpected.
As you may very well know, the word Gasser gets thrown around so much that it has practically become faux pas. Fake this, phony that—even uttering some uninformed words about the Gas Coupes and Sedans a great way to get a thread closed. Yet here, far away from the AA/Gas Willys and Anglias, we have a coupe from the other end of the spectrum—Jerry Haley's '33 Plymouth.
Stormin' out of Capron, Illinois, Jerry built the light blue '33 to run in the lower gas classes: F/Gas, G/Gas and the like. The chassis setup was fairly standard for the era and included a tube axle up front, a '59 Chevy rear (stuffed with 4.56 gears) and a long set of homemade ladder bars. Inside, he cut weight with fiberglass bucket seats, blue Plexiglas windows and a well-constructed aluminum floor. Accouterments were Spartan but very nicely done.
And then there was the powerplant—undoubtedly the focus point of Jerry's coupe. The '54 GMC inline six was pushed to 320cid and outfitted with a wide range of speed equipment. Highlights included a Vertex magneto, custom log manifold and a row of five thirsty Stromberg 48s. Power was transferred though a T-10 four speed.
The whole package was good for 12.30s at more than 110mph, numbers that earned Jerry numerous records—including a couple at the NHRA Nationals in '62 and '64. According to the article in the December 1965 issue of Popular Hot Rodding, he had only lost four races since '60 in the car. As dominant as it was on the strip, I would love to see a similar setup on the street. Wouldn't you?
—Joey Ukrop
 Photos by George Elliott, PHR, December 1965
31

Comments on the H.A.M.B.