Grimlock's Roadster Runs!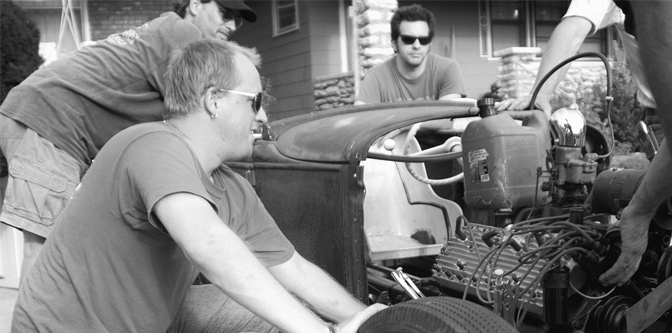 It was early fall in 2004… and a bunch of us Kansas City locals decided to ditch work on a Friday, meet up at Kevin Lee's house, and get his roadster started for the first time. We started early in the morning and worked our way out of outerwear and into t-shirts before it finally fired that afternoon. There were coil issues, carb issues – the normal shit that happens when you first fire a car.
I can still hear the roar when it first lit. And not from the motor, but from all of us screaming in delight. Our pal had a running flathead powered roadster and it was cool as shit.
A month or so later brought winter and we all decided to get back together again for the first drive. The plan was to meet on a Saturday morning, but Kevin called me that Friday night for a test run of sorts.
"Let's just make sure all of this shit works before I have an audience."
I can vividly remember Kevin slinking into the car, hitting the starter button, and driving off in the most cavalier manner imaginable. I waited for something to go wrong, but nothing did and Kevin drove off into the darkness. I don't think he had even gotten around to lights yet… Shit like that was secondary. Going fast… or hell, going at all, was the priority.
Sometimes I think I've gotten way too serious about all of this old car shit. At the end of the day, it's moments like this one in 2004 and cars like this roadster that make a mood… That leave a legacy… The build a foundation.
59

Comments on the H.A.M.B.