A Hot Rodder's New Years Resolution
2017 was quite simply a year with some bad news for me: I had friends loose their homes in the massive California fires, there was turmoil at work, and then on Christmas Eve a very good car bud of mine unexpectedly passed away. That one hurt the most. Dano Nichols was the kind of true-blue friend that was always there for you… Willing to help, to listen, and most of all, he always had your back no matter what. That's a mighty rare kind of friend these days. Dano and I were in the Lucky Devils Car Club together over 20 years ago and remained close ever since, and I'll really miss him.
My hot rod resolutions for 2018 were going to be pretty much the same as the last few years; to get the roadster on Deuce rails, or a new top for the '39 Merc, maybe hit some quality events like the RPM Nationals this year. Instead, I've decided to take some inspiration from Dano. Stay in better touch with my old car friends, help out a few buddies in need, and try to live everyday like it's my last one on earth; It just might be.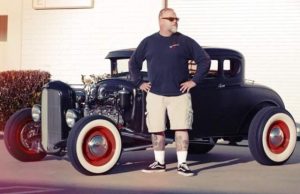 11

Comments on the H.A.M.B.