A Year in Review—2017 Edition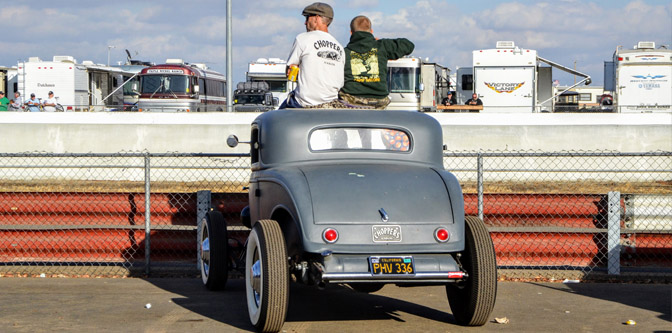 It's amazing to think that another year has come and gone. Like the years before it and the years that will follow, this 12-month span has had its peaks and valleys, setbacks and triumphs. And sprinkled through it all, there have been moments of wonder.
One of those moments came during the sweltering summer months when I was down in Southern California on assignment for The Rodder's Journal. The sun had set on a long day of interviews, and one of the sources was leading an after-hours tour of the boneyard on his property. Guided by the silvery moonlight, we wound our way past engines, coupes, slingshot frames, cars that ran, cars that didn't and eventually made our way to a rickety fence on the side of the plot. (With each step, I hoped to God his junkyard cat really was a bona fide snake hunter). We slid though the gate and approached a long single story building with a corrugated roof—a structure that looked like it had sprouted right out of the arid landscape. He told us it was once a brothel. I believed it.
After climbing several concrete steps, we came to an old metal door. He turned the key and motioned for me to have a look inside. I did. From floor to ceiling, the place was packed with Gasser gold and all sorts of hot rodding treasure. Out of everything I saw, I'll never forget the racks of ultra-rare mag wheels towering over me as I stood there in awe. There was no doubt about it—this was a once-in-a-lifetime experience.
***
In retrospect, I'd say that night in the Southern Caliofrnia desert is analogous with my year in hot rodding. Month after month, story after story, I find myself diving in, searching for something and  ending up with so much more.
With that in mind, I present you with a little bit of that more. Here you'll find iconic cars, barnfinds, fresh builds, road trip outtakes, wild speed equipment, indoor shows, outdoor shows, rock salt, a UFO, two Muffler Men and a Ford pickup that looks all the world like a chicken. And that's only scratching the surface.
In the past 356 days, I'm grateful that I have gotten to catch up with old friends and make a whole lot of new ones while writing about a subject I love. Thank you for coming along for the ride in 2017—I can't wait to see what the New Year has in store.
—Joey Ukrop
15

Comments on the H.A.M.B.