The Family Heirloom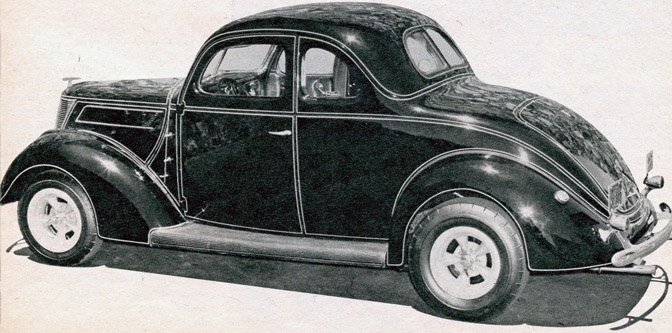 Earlier this week, I was thinking about how rarely you see '37 Ford hot rods. When the subject comes up, my mind jumps to a pair of favorites: Orville Elgie's "Family Plan Panel," which wowed the crowds at the first Street Rod Nationals in Peoria and Ryan Reed's in-the-weeds, Cordoba Tan tire-fryer. They're not common machines—but when they're done right, they certainly warrant a walk around.
Take Gordon Kolberg's San Diego-based '37, for example. Originally purchased by his grandfather right off the showroom floor, Gordon—a San Diego Prowlers member—eventually got it after his father and older brother had their fun. And when it was finally his turn, he dug right in.
Off came the body and fenders as the coupe was brought down to the bare frame. The Blue Oval drivetrain was replaced with a 3×2-fed Corvette 327 backed by a four-speed. Up front, Gordon brought the nose down to earth, while the car was outfitted with a 'Vette rear stuffed with 4.56 gears out back. In the rolling stock department, he secured a set of American Racing five-spokes and wrapped them in big and little Denman tires.
When it came to the body, Gordon knew he had a good thing going. He kept the handles, hood sides, bumpers, windshield wiper—the whole deal. No chopping, channeling or sectioning needed here. With the sheetmetal straight as can be, he had the coupe slathered in black lacquer and finished off with thick white pinstriping by Art Gonzales. For the interior, he looked to the team at Kizer's Top for the rich Oxblood tuck'n roll. As a final touch, he had his initials stitched into the rear trunk panel.
There's no doubt that Gordon's coupe had class—but don't for one second think that hindered him from racking up the miles. From serving pace car duty at Balboa Stadium and 100+mph drag strip blasts to hauling a 16-foot trailer, Mr. Kolberg and his coupe did it all. And the best part? Rumor has it that he still owns the car after all these years. That's my kind of family heirloom.
—Joey Ukrop
 Photos by Bob Hardee, Car Craft, November 1963
23

Comments on the H.A.M.B.