Rex Burnett
Early this morning, I was sitting in the ocean waiting on a wave. To kill the time, I began to think about my post this morning. I don't know if it was the water, the cold temperatures, or my numb toes but something made me think about the beginning… How in the hell did I go from super sophisticated race cars to antiquated traditional hot rods?
I think it had something to do with Rex Burnett. I don't know much about the master illustrator that called early issues of Hot Rod Magazine his home, but his art has struck me as insanely modern and technological since day one. So much so, that my jump in automotive passions just didn't seem that broad. And after getting out of the water, firing up the laptop, and looking over my digital collection of Rex Burnett pieces, it still doesn't…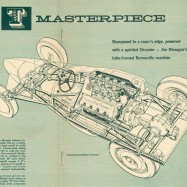 66

Comments on the H.A.M.B.