Nothing Like New Old Stock!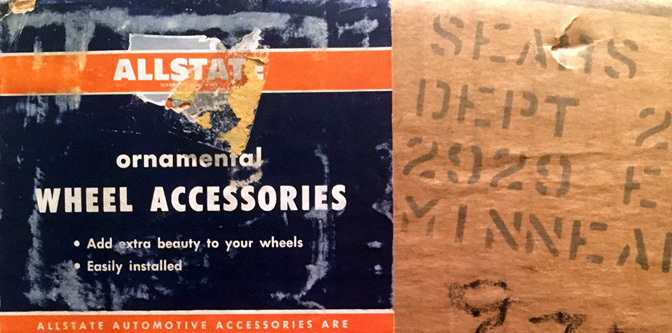 Juts last week I was pining away about how much I love crusty, original-paint stuff like my old bicycle, and now it's time to sing the virtues of parts that actually get me equally excited: N.O.S.! I drove by a neighbor's garage in my '29 Roadster a while back as he was getting ready to move. Grinning at the Model A, he told me there was something I might wanna buy, while pulling out an old brown box labeled "Allstate Ornamental Wheel Accessories". Inside were four brand new (aftermarket) Olds Fiesta 3 bar flipper hubcaps, packed in their original crate paper and cardboard rings, including the instruction sheet. It was honestly hard to believe the perfect plating was sixty years old, and these babies had somehow never been taken out of the box, never mounted on a rim… Sleeping safe & dry in their original packaging all that time. It felt so good just to touch the chrome on caps that were put away for 6 decades till I came along! This leaves me to the dilemma- Do I want to steal their 50s virginity and casually throw them on my Pontiac wagon, or save these special caps for the perfect car worthy of their N.O.S. shininess?
22

Comments on the H.A.M.B.