A Repost: Jay Johnston's Shoebox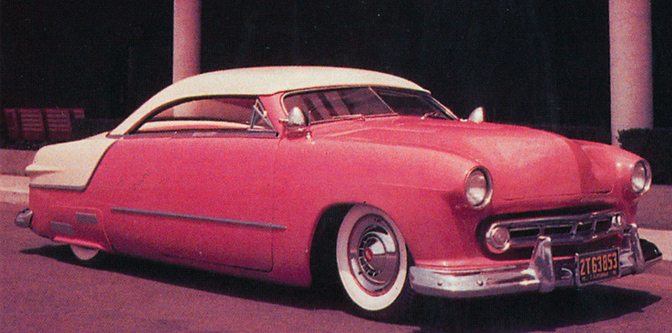 I go through phases of obsession. A good example of that is last quarter when I spent a good three months thinking about '38 cabriolets almost exclusively. I browse through my collection of old magazines, I search through my archives of photos, and I just generally haunt my brain with visions of grandeur and perfection until I finally conclude things mentally with – "Yep. That's the perfect '38 cabriolet. That's how it should be done."
And then I move on…
This time I've moved on to shoebox Fords. I'm just starting the mental exercise really… and it's an exercise I've done plenty of times before with the '49-51 Ford. My conclusion is different just about every time, but I always start in the same place – Jay Johnston's Shoebox. Here's a post I did about a decade ago:
I first saw Jay Johnston's shoebox in Andy Southard's "Customs of the 1950's" book and as the owner of a shoebox Ford at the time, I freaked out. Sure, it's a pretty extravagant custom and I typically don't go for such cars, but this one is different. Why? Because just about every single modification made to this little car was done with a total vision. There are no hap-ass changes for the sake of changing… Just well thought out modifications that result in a car that looks like it's hauling ass while it's sitting still.

The hard-topped chop is the most pronounced change. And while we've all probably seen hard-tops done in a cleaner and smarter fashion, this one isn't so bad. The heavy crown gives the car a bit of a forward slant and when seen in conjunction with the a-pillars, level stance, and amplified "fender peak/spears," you are left with a feeling of speed. In my mind, that's the over-all feeling just about all cars should leave you with – custom or hot rod.

In any case, I had forgotten about the little shoebox and just happened to see the January, 1955 issue of Car Craft Magazine in my bathroom this morning. I don't believe I ever knew or had recognized that the car was painted coral and yellow – two colors that don't work so well in my mind's eye, but pop perfectly on the cover of my well worn Car Craft.
***
In any case, it's a holiday… and I plan on making it a slow work day interrupted by small thoughts of shoebox Fords, endless searches for cars I remember staring at years ago, and brisk flips though countless old magazines. Wish me luck.
24

Comments on the H.A.M.B.