Pikes Peak: No Margin for Error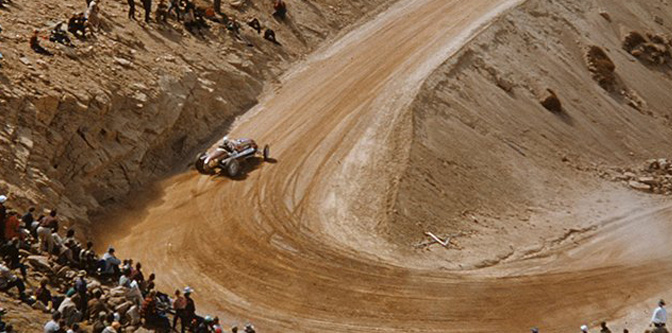 My automotive news feed had a blip about Ken Block almost dropping his 1400 HP all wheel drive Mustang off a deep cliff while filming the "Climbkhana" video at Pikes Peak. If your not aware of the event, this deadly hill climb has racing roots going back over 100 years. Talk about tough conditions, the course to the top is nearly 12 and half miles with 152 turns with very little margin for error. There are few guardrails and narrow road's shoulders are nearly non-existent. Your starting line is at 9,400 feet above sea level and the finish line is crossed at over 14,000 feet in the sky. When you get that high in the atmosphere, the air thins causing your reaction time and muscles stress to cope with the change. Your engine's fuel mixture also strains and looses nearly a third of it's horsepower at the summit. This race is not for the timid, even in a race-prepped car with rock solid handing and supercar brakes. Now imagine going to the limit in your car in 1957, with bias ply tires, drum brakes, and soggy suspension:
19

Comments on the H.A.M.B.