Back from the Goodwood Revival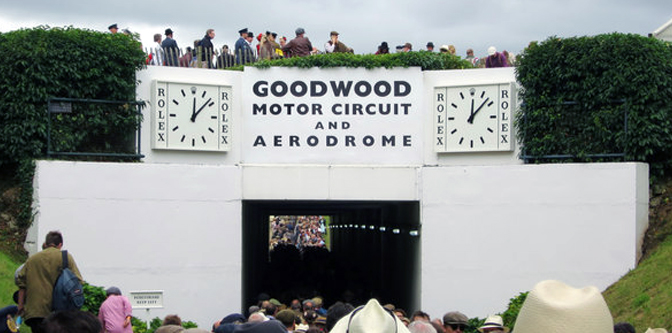 If you've never heard of the Goodwood Revival, it's a 3 day vintage race festival in the West Sussex county of England, about 70 miles Southwest of London. The event takes place on the 12,ooo acre estate grounds of Lord March (yes, he really is) who happens to be a massive gearhead. Auto Racing was actually started at Goodwood by his grandfather, Freddie Richmond, who opened the circuit in late 1948 (located on a former RAF airstrip), and hosted Britain's first post-war car race gathering at a permanent venue. By mid-1966, Goodwood had hosted it's last race, as the owners were resistant to modifying the track with chicanes to slow down the ever-increasing speeds of modern race cars of that period.
Flash forward 30 years to 1996 when Lord March had taken over the estate and decided to bring racing back to Goodwood. He hosted an event called the 'Festival of Speed' as a hillclimb for all sorts of vehicles, and in 1998 he started the 'Revival', as a throw back to the glory days of the circuit from the late 40s through the mid 60s. It's hard to explain till you've experienced the Goodwood Revival yourself, but it's *really* like stepping back in time: Not just the priceless vintage race cars littered around the paddock, the WWII planes and old GP motorcycles- The track, the signs, the vendors, the displays, the bands… **Everything** looks like you've just exited a glorious time machine set to "When Things Were Cool". I'd venture to say a good 90% of the people who attend, and there are thousands of them, dressed in period clothing: Men with Gatsby hats and old coveralls, ladies in furs and seamed stockings… Even the babies are pushed around in 50s era buggies. Maybe it's like the 'Race of Gentlemen' but times ten, on nitro, and over the course of three days. I'm still processing it all, but what a blast… Bucket list item, my friends.
18

Comments on the H.A.M.B.