A Resilient Rail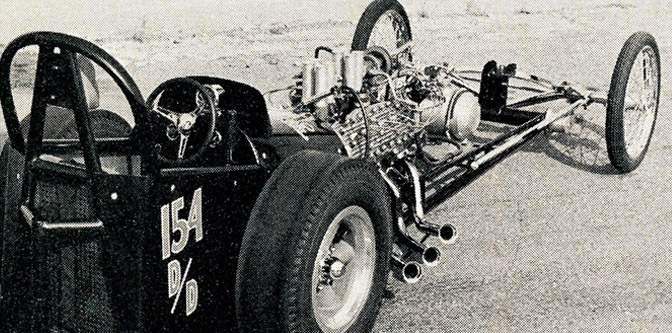 Hot rodders are resilient by nature. Ever since the dawn of our hobby there have been those who would rather fight than switch. It doesn't matter if it's on the street or at the dragstrip, it's all about finding a combination that works.
By the mid-'60s, flatheads had become somewhat antiquated in the competition realm. There were certainly exceptions to this, like Nor Cal's Ed Binggeli's bright yellow Willys with a four-carbed flatty or So Cal's "Safeway Sandblasting" Willys running in C/Gas Supercharged with a blown Ardun. They were out there, just in much smaller numbers than they were the previous decade.
And so today, let's turn back the clock to the mid-'60s when Indianapolis, Indiana, hot rodder Pete McManus decided to build a slingshot dragster. If Pete's name sounds familiar, it may be because of his involvement with the Bill Woodard/Neal East/Bill Moeller roadster several years after the car you see here. But that's a story for another time…
Starting with a 106-inch mild steel chassis from Detroit's Tom Wright, Pete got things going with a Chassis Research front axle up front and a Davis quickchange out back. He kept things light with cycle wheels on the nose, while American mags on M&H slicks helped transfer the power to the pavement.
So what's making the power here? A '46 Ford flathead pushed to 296cid, of course! Pete treated it to the best of the best, circa 1964, with a shelf load of go-fast components. Things you can see: Edmunds heads, Hilborn injection and trick bell-tip exhaust. Things you can't see (but you'll be happy are there): C-T stroker crank, J.E. Pistons and Grant Rings. He connected the potent flatmotor to a '40 Ford trans, while a Schiefer flywheel and clutch occupy the space in between. From the top of the buggy spring to the back of the roll bar, this car was show detailed through and through. As a result, Pete was known for taking home the hardware in the appearance category.
At this point, you're probably wondering what kind of numbers it ran? Records indicate that Pete raced in the D/Dragster ranks, turning 11.15 at close to 120mph. Looks like it'd be a hell of a ride that I wouldn't mind taking. It's nostalgia, 1965-style!
—Joey Ukrop
 Photos by Bob Hegge, Rod & Custom, July 1965
5

Comments on the H.A.M.B.