The Shooting Star returns…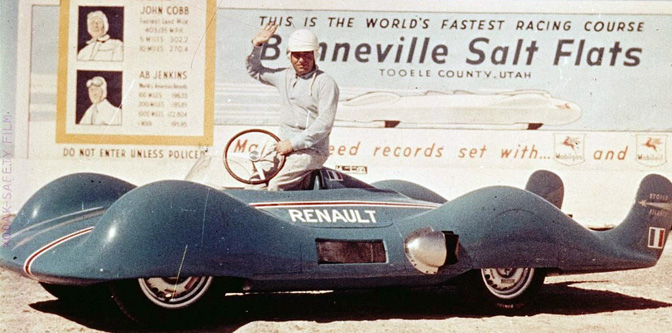 Ryan's Bonneville post has an image of a baby-blue vintage racer that I couldn't shake from my mind's eye. Upon further examination I could make out the words on the long tail fin "Etoile Filante" which means 'shooting star' in French, and the wild-looking vehicle in question was the 1956 Renault land speed racer Etoile Filante. It was purpose-built from the ground up to help Renault boost their reputation in the USA and help pave the way for the Dauphine, which was beginning it's export at the same time. The 270 hp turbine-powered car first went to the salt on September 5th of '56, clocked just under 192 mph, and promptly set four new world speed records — Two of which still stand to this day. Unfortunately, she really was a 'shooting star', as the temperamental motor spun too fast and ran too hot, subsequently burning up.
Exactly 60 years later at Bonneville 2016, Renault Classic brought the Etoile Filante back to the salt along with race-prepped Dauphine that set a new CGC (Classic Gas Coupe) record for vintage 750cc – 1000cc production cars at a record 76.5mph.
10

Comments on the H.A.M.B.