The Maine Drag- More Late 50s Race Footage!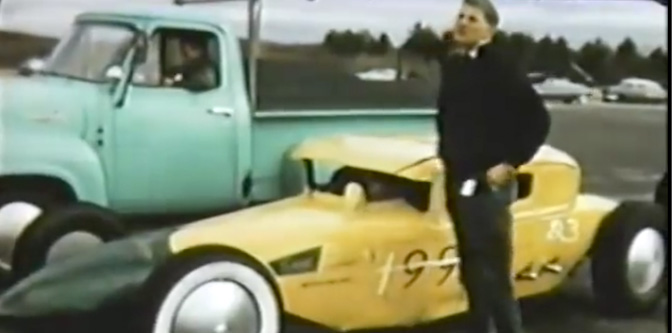 Why am I obsessed with the '55-'59 era of drag racing? Maybe because it was the last days of real recreational racers, no ET arms race, no lightning system, and simple (if any) safety standards. You could really 'run what ya brung' and everybody's bucket got a pass down the strip… The last days of dangerous innocence, if you will. Sounds like the HAMB Drags to me.
Today's clip comes from the Sanford Dragway in Maine around 1959. The New England Hot Rod Council set up this strip at the abandoned Sanford Airport runway in 1955, with races organized by the Portland Shaft Twisters and sanctioned by the NETA – New England Timing Association. Sanford was an NHRA-approved track by the late 50s and they ran on the second and fourth Sunday of the month. I LOVE the chopped 5 window yellow coupe from Watertown, Mass featured in this film. Rear engine, filled rear windows, center seating with removable rood panel, and that bullet nose… Just amazing ingenuity.
27

Comments on the H.A.M.B.