Ralph Ehorn's 1954 Ford Pickup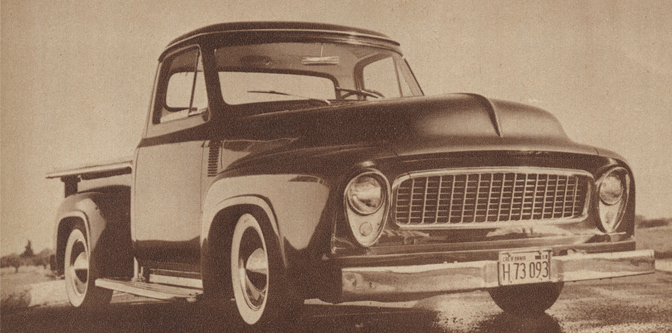 My truck obsession continues… This morning I was searching my hard drive for examples of '51-52 Ford pickups and actually ran across this example of a '54. It was owned by Ralph Ehorn and featured in the January, 1959 issue of Rod & Custom Magazine. Obviously, there are a lot of custom touches here but I think the truck's calling card has to be the '55 grille bookended by '54 Buick headlights. And it's funny, because those two mods together sound a bit compartmental… But they actually look as if they belong on the truck together.
What drove me to post this truck this morning, however, is what looks to be absolutely stunning paint and body work given the period in which it was built. I mean, look at the leading photo – this thing looks crazy straight. And had I not seen the cover in which it was featured, I would have never guessed this thing was red.
Anyway, enjoy:
17

Comments on the H.A.M.B.