Bad Banana IV: Drag Racing the Family Wagon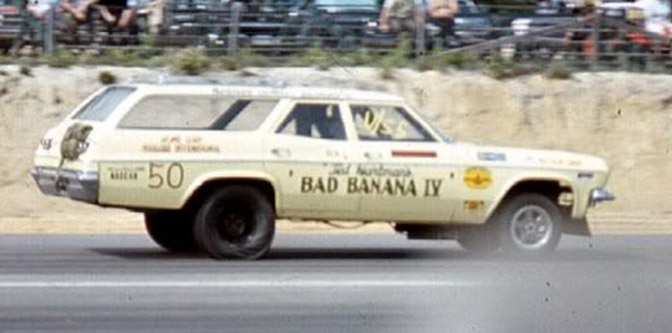 Wagons were the prehistoric minivans—staples of suburbia throughout the latter part of the 20th century. They made loading up groceries easy and hauling the family a cinch, but they rarely ranked very high in the desirability category for the younger crowd. More doors, more weight—not the best rodding fodder.
Every week, I pass a 1965 Malibu wagon parked in one of those San Francisco sidewalk-driveways on my way to work. The four-door has the full yellow treatment that includes everything from the sheetmetal to the steel wheels. I've never heard it run, although one time I saw the owner tinker with it a little bit. The drivetrain still remains a mystery.
On Monday I rolled by that particular longroof and my mind began to wander. What is it about that car that's so intriguing? What would I do if I had one just like it? Don't I have a picture of a similar Chevy in my files? Then the light went off. Yes! It's a lot like the "Bad Banana IV" campaigned by Ted Hartman of Salamanca, New York.
It's been a few years since I first reached out to Ted hoping to learn more about his wagon, and yes, I mistook it for a H.A.M.B.-friendly '65 (like a fool). After a couple rings, I found myself speaking with the man himself. As I can recall, he was happy to fill me in on the car's history. The high points made their way onto a notepad and, well, that notepad seems to have gotten mislaid during one of my moves.
What I do remember is this: Ted campaigned a number of Bad Banana Chevrolets throughout the 1960s. (As far as I know, there was no tie to the wheelstanding '55 of the same name that was restored by Bad Banana). Ted was a sharp guy and he outfitted the wagon to go fast. Talking points included a carbureted 427cid big block, fully gutted interior and drastically lightened front end. What struck me as interesting is that the wheelbase varied from side to side. He and the wagon were fierce competitors at Niagara International Drag Strip.
So what's the appeal of this thing? As you may remember from my article about Paul Hatton's "Wild Wagon" a couple years ago, I've always been drawn to high-performance wagons—and the Bad Banana IV drives home that look full force. Check out the large collectors, magnesium Americans, aero dam beneath the front bumper and, best of all, heavy-duty drag chute affixed to the tailgate. Oh, and he kept the roof rack too!
No, it's certainly not perfect—and borderline shouldn't be allowed here—but there's no doubt that this wagon was built to haul. I wonder if I should show a picture of it to the Malibu owner on the way to work, just for a little inspiration?
—Joey Ukrop
 Photos collected on the H.A.M.B. through the years as well as DoverDragstrip.com
22

Comments on the H.A.M.B.