'57 Variety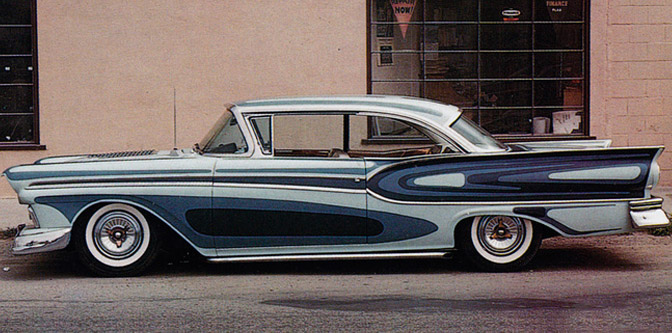 In the traditional hot rodding and customizing realm, I'm often drawn to variations on a theme. It's like a studio filled with artists looking at the same figure and laying down their own lines in their own way. Same canvases, different interpretations. Sure, some are better than others, but when the time comes to pack up for the day, no two works are identical.
Today's canvas is the 1957 Ford. Even though the Chevy of the same year has a parking spot in the history books right between baseball and apple pie, the Ford was a bigger seller and subsequently became popular rodding fodder. From sedans and hardtops to wagons and Rancheros, just about every body style and trim model has been chopped, shaved, lowered, raised or raced at some point during the past 60 years.
It wasn't until earlier this week that I came across Ken Nunez' '57 Ford. There isn't a whole lot of information out there about the Monterey, California-based hardtop, but one thing's for sure—Ken let the paint do the talking. I've long been a fan of the "wild paint mild custom," and there's no question that this car nails the look. Sprayed by Paul Vona, the tri-tone blue plays perfectly with the flowing, Googie-style panels that move down the flanks like a swirling tidal pool. Complex? Yes. Jarring? Far from it. Other highlights include reworked front and rear ends, shaved handles, lakes pipes and a healthy lowering, which were handled at Archibald Kustom Autos. It all makes for an attractive '57 fit for the drive-in, boulevard or even the one-day car show held on the local high school football field.
And then, for comparison sake, we have another blue 1957 Ford from the opposite side of the spectrum. A dedicated drag car from the Pacific Northwest, the "Gunfighter" was built and campaigned by Gary Coe. With its altered wheelbase, straight axle front end and heavily setback Ford motor, the wheelstanding '57 was a crowd favorite throughout the '60s. I actually have a bigger piece about this car planned for sometime down the road, but I felt that this profile shot of it in one of its earliest forms would be good to size up against Nunez' hardtop.
The other reason why I picked this image is because, in this iteration, the Gunfighter looks as if it could be somewhat streetable. And so, with that being the case, which '57 would you choose to drive this weekend?
—Joey Ukrop 
Nunez photo from Kustomrama, Coe image found on the H.A.M.B.
14

Comments on the H.A.M.B.