The Blue Angel: Part 2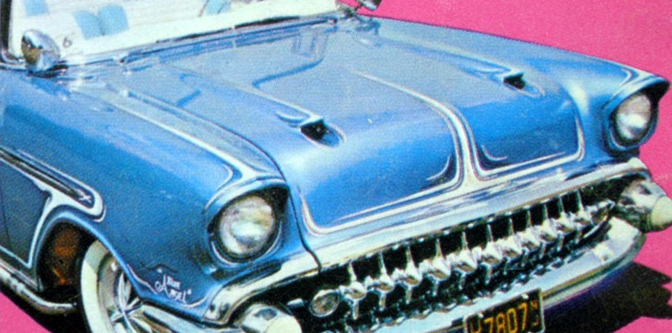 Back in 2013, Jay wrote a feature on the Blue Angel – a 1957 Chevrolet convertible that Barris and Dean Jeffries had had their way with. That was that until I got an email from Rick Bobick:
Let me preface the story of the Blue Angel 57′ Chevy by stating I am 73 years of age and still play with cars. Here is the story:
This beautiful 57′ Chevy Conv. was owned and built by Errol Huttle, formerly of Elizabeth New Jersey, and graced the cover of Rodding and Re-Styling Magazine (November 1959). In addition the magazine also ran a step by step article regarding the fabrication of the custom tail light pods which house the twin 59′ Caddy lenses. Errol also modified the stock "hood scoops" and inserted horizontal radio antennas in each opening,(this project was also covered in the magazine.) The paint is 18 coats of hand rubbed 1955 Cadillac Bahama blue lacquer, along with mild light blue scallops and pin striping. The interior is off white and blue roll and pleated naugahyde, with matching blue carpeting. The dash was also rolled and pleated to match the interior, with lots of chrome accents. the engine was a factory 283 Cu. Inch 4 barrel with a 3 speed floor shift. The grill teeth are NOT ala Corvette as noted in your article by "Jive-Bomber" but eleven grill bullets from a 53″ Chevy grill bar. The car was lowered 5″ all around by removing the coil springs. The deck was shaved and an electric trunk motor operated the trunk release from a hidden button under the dash. Errol was a member of the Road Runner Auto and Safely Club. Their 50-odd members had a 5 car garage in Union, NJ with enough tools to make this beauty into a show winner many times over. The entire makeover took Errol(then 21 years old!) about a year and $1500.00 of his spare change to complete. Also helping with some of the work was Pete Spickler's Body Shop in Union NJ. So, you ask where do I fit into all of this? (Glad you asked).
As a mere lad of 17 years old living in Perth Amboy NJ, the city fathers decided to block off 3-4 blocks of the main downtown street and sponsor a car show. Cars from all over the NJ/New York area came to participate; and the town was amazed at the gorgeous vehicles that arrived. My very best friend and High School chum fell in love with the car and managed to buy it at the show. He had it for several years until an MG coming the other way decided to further customize the Angel by way of a crash. It was never the same thereafter. My friend left New Jersey for College and the service; and there I lost track of the car. Perhaps someone knows where it might be to date, and is in the process of restoring it back to its original grandeur, but here is where my knowledge of the car ends. I was privileged to drive it many times (hell, I learned to drive stick shift on this car!) it never failed to turn heads wherever it went. Errol passed away several years ago and his wife Carolyn still resides in northern New Jersey.
Thank you for letting me reflect on a happy, simpler time in my life, and re-living memories that few have experienced.
Very best regards,
Rick Bobick
San Diego, Ca.
Incredible, right? Rick also included some never before published photos of the car as well:
Special thanks to Rick for sending these images and further history. Amazing stuff!
15

Comments on the H.A.M.B.