Uncle Doug's Shop Rags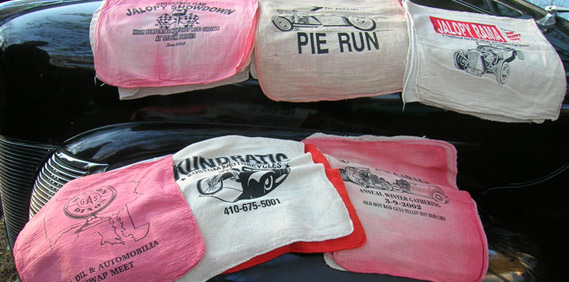 Most of us don't give the lowly shop rag a second thought.  You buy them by the gross.  They have a thousand and one uses, and in the garage they are indispensable.  And we use them and throw them away without a second thought (unless you are one of those insane folk who launder their rags!)
Well, it is highly likely you won't be using or throwing away one of Uncle Doug's shop rags.  Doug Johnson is a guy who has been quietly involved in our hobby his whole life.  He runs an automotive memorabilia shop in Glen Burnie Maryland, All Good Stuff Automotive, but his personal talent is as an artist and a guy who understands cool.  Doug has been the guy that for years has been locally doing silkscreen shirts for car clubs and car shows.  One of the local rod events is the Pie Run, that occurs every Thanksgiving. Seven years ago, Doug ran off a pile of shop rags with the event T-shirt design for inclusion in the goodie bags given to those first guys who arrive to caravan down to the general store where the pies are waiting.  It was an immediate hit.
For the last seven years, Doug has created 'Art Rags' for select car events in the mid-Atlantic. This has included the Jalopy Showdown events, the Jalopy Drags, the indoor Jalopyrama, an annual mid-Atlantic Old Timer's get-together, the Pie Runs along with several other one-time events. With the large number of participants at these shows, and the limited production and distribution to only event participants, the lowly shop rag has now been elevated to collector status, as they are now seen showing up on auction sites.  Some have been made into pillows.  One report is that a seat cover is being sewn.  Maybe the best use is hanging out of your back pocket, or around in the garage, letting your buds know where you've been.
Seen here laid out on the hood of Doug's '40 Ford coupe is a sampling of the entire production run to date, and I dare say the only complete set of Uncle Doug's artistic talents.  Doug has retained one example from each production run and allowed me to shoot these at the 2008 Pie Run on Thanksgiving Day. These are great pieces, from the detailed racers on the Jalopy Drags to the fifties feel on the Lens Garage gathering.  Check them out.
———-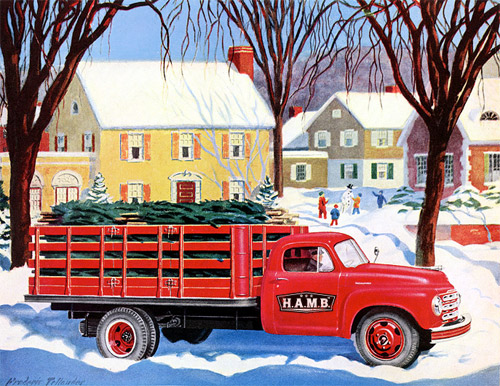 19

Comments on the H.A.M.B.