Racing Lessons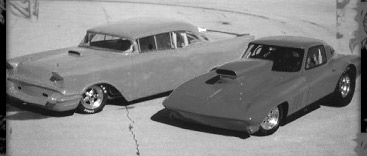 I think it was around 1999 or so. It was a racing season that defined me as a person today and really taught me about the life value of determination and guts. I had just gotten back from a not so successful and pretty short stint in open wheel racing in Europe and was down on myself in a major way. As a teenager, a hot rod guy pretty much places his self value on his ability to drive a hot car. I didn't feel as if I was living up…
I found myself behind the wheel of our Super Comp '68 Camaro at a small drag strip in San Angelo, TX. It was the annual NAPA Auto Parts Challenge and pretty much the biggest purse race in West Texas. The first five rounds went exactly as planned. We were able to cut consistent lights and stay close enough to our index to stay in the race. This was the final and I was running against an altered '27 T-roadster that shared my 8.90 index. The last race of the night would be an honest heads up race – first to the line under the index wins.
I rolled the car through the burn out box, set the line lock, and brought the revs up to 5,000 RPM. It was a burnout technique taught to me by Les Figueroa just four years earlier. "Long burnouts are for glory hounds with tire contracts. Four seconds is all you will ever need." After the tire warming ritual, I double checked my delay box and waited for my opponent to stage. No matter what happened or how hot my motor got, I always staged last. I liked to stage a little more shallow than my competitor as at this level, the easiest wins came by way of red lights. Our Lee Sheppard prepared SBC had more than enough power left in the sand bag to make up for deficiencies off the line.
This time was different though. Just as my dad was getting me strapped in the car, I heard a pit aid put his money on the T-roadster while reasoning that "the kid" hadn't cut a good light all day. My ego over ruled my reasoning and I decided I was going to stage as deeply as I could. Once there, I laid on the transbrake and brought the revs to a limited 8400 RPM. As soon as I saw a glimpse of orange on the tree, I let go of the brake. The car exploded off the line and for a brief second, all I could see was the black sky and the lights that lined the track. I was off…
If I red lit, I would have heard a tone in my helmet. I heard nothing and knew I cut a pretty good light. As the little SBC screamed past 9000 RPM, I slammed the glide into 2nd and started looking for the T-roadster. Nothing. Nada. I couldn't find him. Immediately, my mind went to work putting odds to the chances that the roadster either red lit or broke off the line. I skipped both options and figured I was running too fast against the index and was in danger of breaking out. That's when it went bad.
I hit the brakes at about 140mph, heard a sound, saw asphalt, and immediatley pulled the chute. I woke up a few minutes later in a cloud of dust feeling very much alone. I unlatched my belts and fell to the roof of the car. The door was gone. Nobody was around. I blacked out again. I woke up sometime later and found myself laying on the track with my dad (a doctor) standing over me. As he checked to see that all of my body parts were still present and functioning, he mentioned that I had cut a perfect .500 light. Fuck that pit aid.
We still don't know exactly what had happened. It could have been driver error. It could have been something on the track. It could have been a mechanical failure of some sort. All we really had, was the result – a destroyed race car after rolling end-over-end eleven times. I think my dad most likely began second guessing his effort to put his son in such dangerous circumstances and I was just simply crushed.
It took a few weeks, but through determination and an absolute refusal to give up we found ourselves in the shop preparing a new car. The '67 Vette you see in the lead photo of this article is what we returned to the track in. It was faster, quicker, and safer than the Camaro it replaced. Winning in that car taught me lessons that I could have never learned in school or while doing more civilized activities. Amazingly, hot rods continue to teach the same lessons to me…
Never give up.