Weiand Belly Tanker Diecast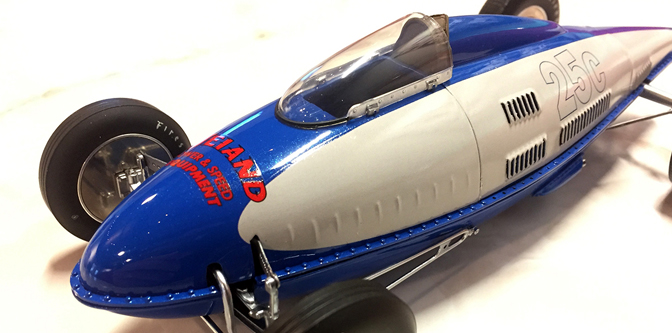 First, let me just say that I geek out when a decent 1/18 scale traditional hot rod of any kind comes on the market. Then the geek level goes up quite a bit when it's actually a Flathead-powered belly tanker with a high level of finish. So the real question, what is this 25C Weiand car supposed to be based on? The shape says it's absolutely Tom Beatty's, as he ran his icon Tanker at nearly every Bonneville trials between 1951 and 1966, and it had a very distinctive look. As the livery changing almost yearly, this Weiand paint job and number looks to be from either the 1956 or '57 season (as Beatty dropped a blown Olds in the belly starting in 1959).
Now, onto the diecast itself; ACME always does a great job on authenticity and small details with their hot rod models, and this latest one is no exception: Nice touches like cloth seatbelts, period correct gauges, 4 carb-dressed Flattie with individual fuel lines, drilled brake backing plates, etc. Even the metal top body panel has real pressed louvers! The Weiand Belly Tanker will be available in June and would be a nice addition to your 'top shelf' diecast. In the mean time, enjoy the pre-production model that was loaned and photographed as Jalopy Journal exclusive.
8

Comments on the H.A.M.B.