Craziest Custom Corvair: The Forcasta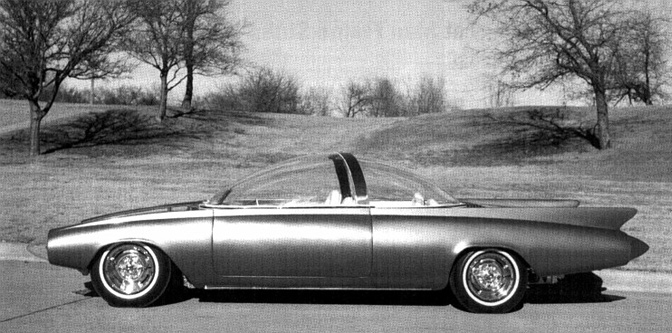 After yesterday's article about compact customs, I began to think about the most radical compact custom of all time, and came upon this gem: Darryl Starbird's Corvair-based "Forcasta". It was a follow up to his legendary bubble top concept "Predicta," but with an even more unique design challenge: An ultra low hood and rocket fenders.
Starbird toyed with the idea of starting with a Volkswagen at first, but the dimensions were too small. Luckily the brand new rear-engined Corvair Monday coupe was unveiled in 1961 and a low-mileage example made the perfect donor car for the Forcasta. He then preceded to strip the car down to the bare chassis and door pillars, then grafting on highly modified 1960 Cadillac rear fenders, decklid and hood. Darryl had to form all new sheet metal for the doors and low-slung pontoon front fenders. With no pesky engine in the front of the car, he had plenty of room to make his futuristic profile work!
The Forcasta was topped with a two-piece split bubble roof, and then sprayed in multiple coats of a Grape colored lacquer. If you can believe it, the interior was finished even more radical than the body, featuring four bucket seats surrounded by a white pearl naugahyde and fuchsia cloth interior. The center console was essentially a gigantic chrome pod and the instrument cluster could pivot on a stem to either side of the front seats! If you want to know more intricate build details, HAMBr Jonnie King actually got to interview Starbird about the wild Corvair Custom here.
Anyway, enjoy the images:
19

Comments on the H.A.M.B.