The Rarest Ride on the Road…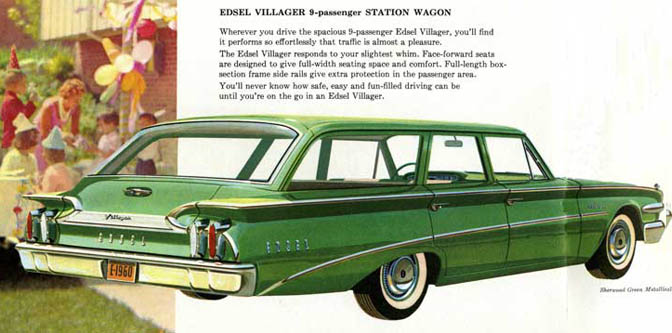 A few weeks ago, me and a buddy did the Turlock Model A Swap and the GNRS on the same weekend. Saturday afternoon we left the swap meet and headed south to Pomona on Highway 99. I look ahead in the slow lane and instantly recognize the odd taillights of a 1960 Edsel Villager station wagon… You just never see them on the road. We passed the two smiling gents in the wagon who, just like us, had probably hit the old parts all morning and were burning gas to get somewhere. I thought about that last-year Edsel a bit more and then looked up the production numbers for that particular body style: The 6-passenger Villager wagon production total was 216, and the 9-passenger version was a mere 59 units! Why so rare? Well, the 1960 Edsel was doomed from the start, when just over a month after it's introduction, the Edsel was discontinued. The factory production only ran from mid September till mid November of 1959, for a total of 2,846 cars being built, and the wagon was one of the rarest models of that already small number.
I've seen ultra-low production vehicles at museums and auctions over the years, including Tuckers, Chrysler Turbines, and Motorama cars… But not too many being daily-driven on the road. Could that 1960 Edsel Wagon be the rarest of them all?
32

Comments on the H.A.M.B.