The art of Jeff Norwell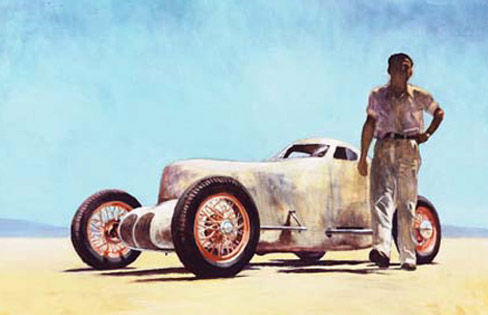 The H.A.M.B. community is jam packed full of incredibly talented artists. The traditional Friday Art Post brings out such personalities as Dennis McPhail, Von Franco, Dan Barnett, Sailor, Picasso, and a ton of others. It's pretty incredible when you think about it and I'm not sure that all of our users truly appreciate or know their company. It's with that in mind, that we decided a monthly artist feature was needed on The Jalopy Journal. So without further ado, we present: Jeff Norwell (AKA: Brush).
Jeff has been a friend of the Jalopy Journal's for sometime now and through the years we have been lucky enough to study his art quite a bit on the H.A.M.B. I'm not an art critique and it's damn hard to fake that skill set, but I can tell ya how Jeff's stuff makes me feel… Hungry. There is certain something about all of his pieces that leave you wanting to know the rest of the story. If it's an oil painting (like feature above) you wonder about the personalities. If it's a rendering (you can see plenty at jeffnorwell.com) you are left wondering how, if, etc…
I guess it's that Jeff consistently delivers the unexpected and in the "automotive" niche of Roth knockoffs, Williams copies, and traditional influences that is a pretty rare thing.