The Niekamp Roadster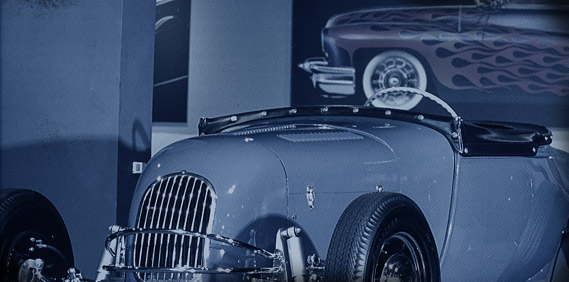 At a time when most hot rodders were young men in their teens, Bill Niekamp was in his mid-40's when he built his famous roadster. He did so without a torch or a welder and with only basic hand tools. It took him 13 months and $1,900 (a ton of money in 1949) to see the car to completion.
He didn't, however, do it all on his own. A mockup on a trailer and a sketch in hand, Bill showed up at Whitey Clayton's shop with a "to do" list that only a man such as Whitey could accomplish. Bill had the now famous metal man form the track nose, grille, hood, and belly pan. Once complete, Bill took the mess back to his one-car garage, disassembled everything, painted and polished, and then reassembled the car just in time to tow it up to the first Oakland Roadster Show in 1950.
The Neikamp roadster was really one of the world's first "show cars". By that, I mean it was one of the first cars that was built to win a show. Unlike many cars of the era, Bill's roadster had a beautifully finished trunk, painted and polished under carriage, clocked hardware, perfect chrome, and just an incredibly clean and smooth profile. The March, 1950 issue of Hot Rod Magazine might have said it best:
"First prize, a handy nine foot golden cup, was carried off by William NieKamp [sic] of Long Beach, for a car that was neither flashy, spectacular, or even tested for speed. What is remarkable about the car, and the feature that enabled it to take seven other major awards, is the perfect purity of its layout and workmanship. Everything about the job is subdued and – there's that word again – perfect."
Of course, Bill had other aspirations for his little car as well. He wanted to drive it… and drive it hard. At both the 1950 and 1951 Pasadena Reliability Runs, Bill won "Best Appearing" car and finished the course with ease.  No small accomplishment considering the car also won 12 timing tags and saw a top speed of just over 140 mph on the salt.
From there, the car took a typical "hot rod" path towards eventual restoration and glory. It was passed from hot rodder to hot rodder, changed a ton, and eventually brought back home by none other than Jim Jacobs. These days it's mostly a museum piece… an honor it deserves.
The following are terrible scans of great photography taken from the incredible book, "Hot Rod Milestones."
66

Comments on the H.A.M.B.