Rod Powell
A few years ago at the Lone Star Round Up, Keith Tardel and I were sitting in The Jalopy Journal booth and passing the time by bullshitting about our childhood rooms. Predictably, Keith's room featured walls adorned by vintage Ford posters and artifacts. Mine, was a mess of genres… I had posters of Ferraris, Formula 1 cars, and of course, numerous hot rods and customs. One of those posters was of a Gary Howard built custom. It was taped up right next to another – a '40 coupe flamed by Rod Powell.
Not more than an hour after this little conversation, Keith's eyes lit up.
"Heads up. Here comes Rod Powell."
Rod walked over and small talked a bit with Keith while I hocked t-shirts. After wards, I got the intro.
"Rod, this is my pal Ryan Cochran. You're his hero."
I think I muttered a few lines about how honored I was to meet him and then made an ass out of myself with total silence. Thankfully, Rod didn't seem to notice and over the years I think he's even gotten use to it. See Rod Powell is now, my pal and ever since that realization I've wanted to interview him for TJJ.
After a few weeks of email exchanges, I got a long text file of Rod's answers. Typically, I edit these down into smaller and more consumable articles, but with Rod I just couldn't do the deed… These words are almost entirely unedited and in my opinion, go a mile to show the passion behind one of the best we've got.
Enjoy.
———————
TJJ: Where did you grow up and what got you into this whole mess?
I grew up in the Alisal District on the East Side of Salinas. Some of the people downtown called it "Little Oklahoma." There wasn't any television in those days, so I would roam around the neighborhood on my bicycle and watch the older guys working on their cars. Some of them played sports and the rest of them were messing with their cars, tearing them down to go faster or cleaning them to get ready for the weekend. In those days (early fifties), we had service stations where they did mechanic work, tires, lube jobs along with pumping gas. They had young guys working and most were allowed to work on their cars if they weren't too busy. Getting a job in a service station was a real plus.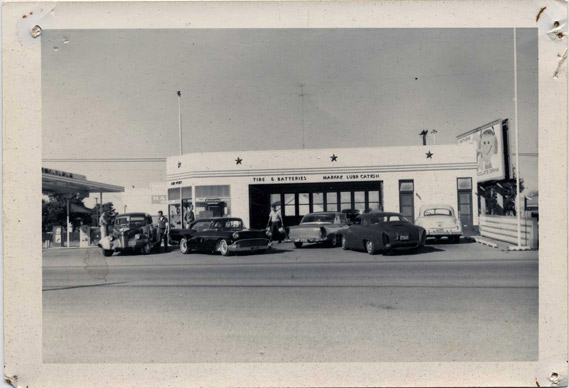 Alisal Texaco in and around 1962.
My Dad took me along to a real variety of car stuff. I remember motorcycle hill climbs in Hollister and sports car races at Pebble Beach and at the Salinas Airport. They held drag races at the Salinas Airport too… We went to see Garlits race at Kingdon. I think it was his first time on the West Coast. The Hardtop races were at the Salinas Speedway and we went every week.
My Dad drove a '48 Lincoln Continental with a Cadillac motor. I had an Uncle that drove a Hollywood Grahm. Dad's first new car was a 1948 "Step Down Hudson," but in '52 he bought the first Hudson Hornet in Salinas. We would get a new car and then go back to Oklahoma to visit in the summer. Route 66! He switched back to Lincolns when the '56 Premier came out. He bought a 2 door, dark green with a turquoise leather interior. I loved that car.
But it was the car shows that dad took me to that really got me interested. I went with my parents to a Motorama in San Francisco and there was a display of Joe Bailon cars. I saw a new 1955 Ford Thunderbird already customized and painted Candy Apple Red – it was really something. Nobody was painting colors like that.
At the Oakland Roadster Show and the Monterey Kar Kapades, I saw Von Dutch's and Jeffries' artwork on Barris customs that were on the covers of all the books. I liked the colors, striping and the cartoon figures. After that, I decided I wanted to be a striper.
I wasn't driving yet, but I started buying the little car books. I drew cars in school notebooks and tried to stripe stuff for my friends. Living in California I would often read about the latest custom or rod in a magazine and soon after that, I would see it on the street or in a show. Guys I went to school with had their cars featured in magazines too… It was everywhere.
There was a Main Street car scene and we would "drag" back and forth to the drive-ins around town.  On Main Street in front of our High School, there was Mels Drive In, Fosters Freeze and an A&W. Sal's Drive-In out on the East Side (where I lived) was a bit rougher, but we still liked to make the loop out there to see what was happening . We went anywhere there were Kids and cars.
There were a lot of nighttime drag races too. Guys would head out to Spreckles Boulevard or Hitchcock road to drag it out.
I don't remember being interested in much else after I got the car bug. Everyone I hung out with was into fixing up the cars and showing them off. In my senior year, I helped put on a car show in the football stadium. We had a few cars that were magazine feature cars, by Cushenbery, Varner & Bailon along with our student entries.  Even then, customs interested me more than hot rods… I was just into making things look good.
TJJ: What was your fist car? The car that brought all of this on… Did you fame it or did that come later?
My first car was a 1939 Chevrolet tudor sedan. I didn't have my license yet. The first thing I tried to do was lower it by cutting the coils with a hack saw. That didn't work too well because they were still in the car but I did get the hood ornament off… still using the hacksaw. One of my buddies heated the coils the next day in the ag shop at school and I was driving a custom. I got the hood louvered at Verne Lacey's shop and painted some bloody cartoons all over the dash. I made some dash knobs in plastic class. I thought it was looking pretty good so I drove it to get my drivers license. I almost didn't pass because they didn't like the shrunken head hanging from the mirror.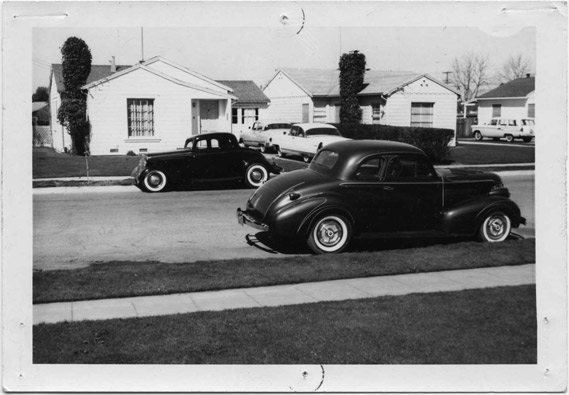 Rod's '39 & Bob's '34 on an Alisal, CA street in 1958.
A few weeks later I sanded it down and had my friend Marvin prime it bright yellow. There were only three colors of primer then and we got the color by dumping toner into white primer. It took so much yellow to get the color right – it was about a 50/50 mix. It was actually a satin finish and held up pretty good.
Anyway, I had just met Don Varner and he was Striping and painting at Verne Lacey's shop. I would hang around and watch him work and before long I thought I had learned enough to try it myself. So, I flamed my car in lavender primer. Masked it up in my parents garage. My Mom helped me by cutting the newspapers to fit the flames. I was sixteen. I drove out to a friends ranch and painted the flames in a barn. I was dragging Main street that afternoon.

TJJ: Through the years, you've built a legacy as one of the most influential painters… wait, more than that… idea guys… that we've ever had. Who influenced you and made ya what ya are?
At first it was my Dad. He was always taking me along with him when he went different places. Most of what I remember was either going to work with him, or like I said earlier – something to do with cars or motorcycles. He didn't own many modified cars that I remember other than that '47 Lincoln, but he sure liked going to shows and races.
Dad was a plastering contractor who was noted for doing the old school lath & plaster decorative work. He always worked with a crew of employees. He would show the guys how he needed the prep work done and he would do the finish. The only time he was off the jobsite was making estimates and getting more work.  When I went to work with him as a kid, I did mostly cleanup but sometimes I would mix the plaster. The crew was like a family, with all the ups and downs that go along with that… We worked hard, but we were all proud of what we did at the end of the day.
Mom took care of the bookwork and billing. I could see how difficult it was each week for them to pay the bills and make payroll. He was his own boss, but it was tough sometimes. I guess I learned the teamwork ethic from them although we never talked much about it.
I saw Dean Jeffries in 1956 at the Monterey Kar Kapades. He was driving his girl friends flamed '56 Chevrolet. Jeff was striping and painting a cartoon figure on the nose of the "Alky Wagon" drag coupe. I went to the show all three days and he was always striping a car. I spent a lot of time watching.
There were at least 3 other guys in my High School striping but they were learning too and nobody shared any secrets. I was doing mostly cartoon figures on dashboards and school books.
When I first met Don Varner at Verne Lacey's shop, he didn't seem to mind me hanging around so I tried to spend time there whenever I could. I began to think maybe I could learn this thing. The way he made that line with his little brush, how he got the tape to do what he wanted when he was laying out designs. If it didn't look right to him he would keep doing it over until he was satisfied. He told me I could pick up a striping brush at the auto parts store and some paint (Bulletin enamel) at the hardware store.
Lacey's shop became another stop on my cruise list. If Don's pickup was there, I would always stop to see what he was working on. He didn't seem to mind so the older guys hanging around tolerated me too. I still remember the smells of the paint and the sound of the louver press going in the next bay. Sometimes at night Lacey would test his drag car right out in front of the shop on Market street. When we went home at night they just shut the door, I don't remember it even having a lock most of the time. Things were sure different then.
I met Andy Southard about a year later when he visited Salinas. He stopped by to meet Varner and I happened to be there getting my car striped. Andy was driving a brand new 58 Impala and it was really done up nice with a molded-in custom grill & taillights. All smoothed off and painted black with candy blue scallops. He also had a new Tijuana interior and a pair of real Appelton spotlights that George Barris himself had installed. It had New York plates and I was amazed that they were doing that kind of work on the East Coast.
Don was striping my car, and his wife was washing their 56 Ford pickup in the driveway. The truck was all painted up with purple freeform scallops. I wish Andy had taken some pictures that day.
Later when Andy moved to Salinas to live we became friends. Andy's photography got my work noticed by the magazines. His photo collection was inspirational to me. Jerry Nielsen and I spent many late hours at Andy's house looking at slides from his early trips to Barris and Watson's shops.
I had Andy stripe the edges of my first flame jobs. I was striping back then, but I lacked the confidence. I learned more by watching him and asking questions. If he was striping a car I would go by his house and watch him work. I was taking a photography class at that time too… After meeting Andy I picked up my camera more often. I too have a large collection of pictures although they are nowhere near the quality of Andy's… and very disorganized, but I am working on getting it all together.
TJJ: Of course, you've also influenced your own share of folks through the years and as I understand it, you're pals with quite a few of the younger guys. Cole Foster comes to mind as a builder, but which of these younger guys do you see as having a ton of potential?
I don't know if I had any new or influential ideas. I think I just stuck with a lot of stuff I learned and tried to make it work for me. Maybe I tweaked it a bit to make it my own but almost everything I do was picked up from someone else.  I may have influenced others along the way.
During my first 10-15 years in business there were very few old style custom shops. You could come to my place and there was always some custom body and paint work being done. There was a lot of activity… We did everything from exotic cars to full on customs. I usually had a couple of body guys along with a painter and a few helpers. My oldest daughter Robin was running the office. We were restoring old customs, building new ones, flaming hot rods, painting low riders. choppers and even some race cars.  Not just to keep the doors open and  pay the bills, but because I genuinely loved to do the paint work and I enjoyed the friends that I made through the work and the car show scene I was involved in.
I tried to keep an open place and let people watch and hang around. I did get grumpy sometimes but I remembered how much it meant to me when I could peek behind the scenes and see what was going on and maybe get up enough courage to ask a question or two. It had a social atmosphere a lot of the time, but we still got a lot done and when there were deadlines to meet, we had a lot of outside help.
Normal day at the shop. Mattel Zingers and the Red Baron in for repairs.
Some of the time I was not the best guy to work for. I wanted to do the work so bad that I tended to cheat myself by bidding too low. The stresses of making payroll were especially hard. Money was always a problem.  Regrettably, business did get in the way of some of the friendships.
I found that I liked having younger guys working with me. There seemed to be more energy and enthusiasm. They were interested in the work we were doing and I encouraged them to work on their cars. I tried to make the shop available to them on their own time.
As far as talented people with potential, there are too many to list. Here are a few that may be familiar to my friends on the H.A.M.B. Some of them came by the shop to watch, and may have learned a bit, (even if it was what not to do). Some came to visit and never left so we put them to work and they became part of the team.
JOSE "PEPE" HEREDIA
When Pep graduated from High School he came to work at my place. Butch and I were glad to have him. He knew the basics and was already doing custom paint and body on his own cars. His class project was a '58 Thunderbird with custom paint and hydraulic suspension. Pep began by helping Butch customize and chop cars. Soon after starting with us, he was cutting the top on his personal '55 Merc.
Today Pep has his own shop where he specializes in first class custom bodywork.
MARK DULIBA
Mark started working with me when he was 17.  The first complete car he sprayed was a Rolls Royce. When Mark came to work for me it brought a group of younger workers and customers into the mix. Mark and I painted together on a variety of cars including lowriders ("Loco 64"), hotrods ( Tom Prufer), show cars ("Cool 50") and  restorations. Mark worked with me 'till the shop closed in the early 90's.  I consider Mark part of my family and we still work together on special projects.
JESSE CRUZ
Jesse Cruz began as a helper, but he was soon painting and doing body work.  He moved on and is now painting show winning cars and motorcycles like the Metallica '36 for Cole and the Bakan Coupe for Don Orosco.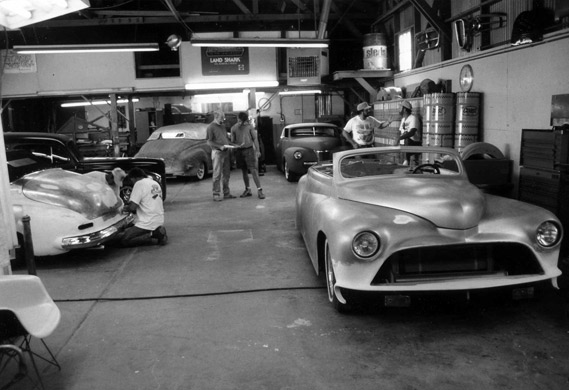 Jesse Cruz far right, Rod & Mark Duliba in the middle. 1990 or so...
ESPINOZA BROS.
My friends Jesus and Juan Espinoza publish Deadend magazine.  They live on the East Side of Salinas where I grew up, and perhaps that's why we get along so well. Juan has been my copilot on a couple of cross country trips to the Lonestar Roundup. You can check them out at www.deadendmagazine.com.
COLE FOSTER
Cole and his friends, Todd, Chad and Job used to come by the shop and visit. Cole has made a great name for himself and has done some very impressive projects.
THOMAS
I met Thomas Tjorsen at Cole's when he was called in from Norway to help on the Metallica Car and a few other projects. Thomas is an exceptional car builder and metalman.. We have become good friends. Currently he has returned to Norway where he is continuing to produce high quality custom work. If I had a project to do and the budget to make it work, I wouldn't hesitate to call him in to help get the job done. He does fine motorcycles too.
CONDER
When I met Tim Conder he was driving a '55 Chev. He used to hang around at my shop and Aldape's garage across the street. At that time we were doing the T-shirt business and the picnic / car  shows and I had him do some art work for me. He always came through with way more than we were expecting.
He moved up to Seattle and the next thing I know he is building bikes and dragsters with some of the coolest, freshest design work I have seen.  He is amazing. I love his work. I know he's in Sonoma now. I gotta go see him.
TJJ: Looking back at all the cars you have built or had a hand in, is there one or two that mean more than the others to you? Meaning, if you had a two-car garage which two cars would you park in it?
1. Jerry Nielsen and I worked together on a '40 Ford tudor sedan that was sectioned and channeled. We were inspired by a sectioned '39 Chevy sedan I had owned several years before. Butch did all the bodywork on the '40. He did a fine job. It was another one of his masterpieces. We sold the '40 unfinished and unfortunately it got street rodded with lots of Red Paint and Grey Tweed. It would be my first choice, of course I would have to undo everything the new owner did to it and start again.
2. A Butch Hurlhey chopped Merc like the ones he did for Curley and me. Most likely it would be a '51, but Curley Tremayne's '50 would be a nice one to have.
TJJ: I don't think a lot of people realize the importance of your part in saving a number of old customs when it wasn't so popular to do so. One such example was Winfield's Jade Idol that you saved in the late 1970's. What made you care for these (at the time) uncared for cars?
I ALWAYS LIKED THE CUSTOMS.
I don't know why. I just like em. As far as me saving old customs, I just found them and fixed them up. That's what I have always done. Most of the cars I have owned were already started when I got them.  I got used to working over old custom work. We would clean it up and sometimes redo it completely it just was part of what we did at my place.
Customs used to change owners frequently. Nobody kept them forever and it was common to get a car that was started in one shop and taken to be finished in another. Some shops got credit ( or blame ) for another places work when the finished car was featured in magazines or car shows.
Both the Cliff Inman/Joe Wilhelm '57 Chrysler and Winfied's Jade Idol were pretty special to me.
I used to watch Joe work on the Chrysler. Cliff showed it for a few seasons and then it disappeared. When the car came to my shop, it really didn't need much done to it but a bit of paint touch up. Everything else was just fine. The new owner wanted it updated with some mechanical and interior changes. Those changes were done at a Street Rod shop. I did get to do the very minor body restorations and a complete Lacquer paint.
To me though, the Jade Idol was one of the most famous customs ever. Every thing about it was innovative. No one had seen such a radical car that was so well designed. And the paint! Gene Winfield blends were the latest thing and this was considered to be one of his best. It was around for several show seasons and it too dropped out of sight.
I discovered what was left of it in a body shop that did not have a clue as to what it was. It was off the frame and was going to be put on a Corvette chassis. The body was just an empty shell in bare metal and very rusty. They were getting ready to radius the wheel wells for bigger wheels and tires. The original frame was under a pile of scrap metal at another shop. The best thing about the deal was they had all of the loose parts and trim boxed up and stored. I got my friend Jerry Rehn to buy the car and convinced him to do as authentic a restoration as we could.
Jerry and Ted Mitchell did a fine job getting it back together. My Brother in-law Rocky DeMateo did the interior and I got to paint it.
TJJ: You've been through a lot of fads – traditional customs, show rods, the van craze, the smoothy craze, and now back full circle to traditional customs again… Do you have a favorite style?
It's Hard to pin me down on a favorite style. I like 50's & 60's  customs and hot rods that remind me of my early car show days. I like custom paint with color and design effects. Solid colors are nice but I still like the flashy Don Varner and Larry Watson style paint work from the 50's and 60's. Some of us used to call it "Crazy Paint" .
For customs, I prefer heavy big bodied cars (40's, 50's, 60's)  Buicks, Cadillacs, Chrysler, Impalas.  Something stylish with a big lowering job and a few minor body changes. I like chrome bumpers and grills but I would shave the emblems & ornaments.
If I could have only one modification it would be lowered.
Rod's '58 Buick.
TJJ: What's next you think? Where do ya see all of this going?
For the average person, things are going to slow down for a while. Our economy has taken a pretty big hit.
Paint finishes today are so high tech they can make a traditional style car look cheap. Some of the high-end restorations that are being done today look completely off base because of the thick plastic look of the urethane paints. The soul or spirit of the original finish is missing. Kind of like a beautiful woman with too much makeup.
When I see one of the latest perfection based "restorations" I want to pick at a corner of the paint and just peel off the thick, phony looking clear coat.  Maybe I'll get to see what the real car looks like. I think it is great to see Satin finish now accepted as final paint. Customized cars are no longer considered unfinished just because they lack a glossy finish and I like that.
I believe our customizing on cars is an art form and perhaps it should be supported more as an art than an industry. Much like we do other artists. I would like to be allowed to develop and use any kind of paint and material to achieve what I need to create as long as I am limiting it to special vehicles. Perhaps there is a loophole there that will allow us to develop and use less hazardous finishes more suitable for the custom car artist without all of the high tech materials and equipment that I believe has been needlessly created to increase profits for the industry.
I also feel that the restoration of significant cars should be supported in the same way. Not with the intention of winning a show or as an investment but as a piece of history that should be preserved.
Custom paint today has become so popular there are whole stores dedicated to just the custom painter.  Everything you need is in one location and as long as you can read and follow instructions a quality custom finish can be created. It is more of a craft than an art and the mystery has been removed from the process.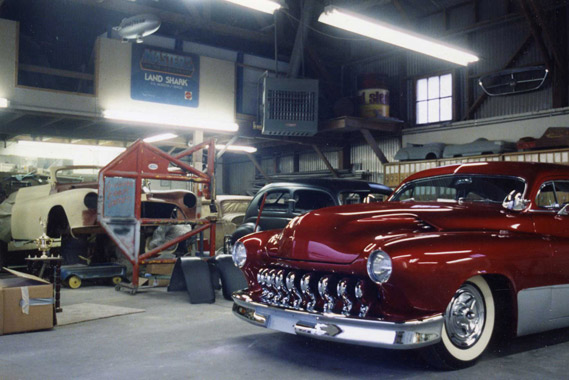 The Larivee / Zocchi "Cool 50" Merc... This was Rod's last complete paint job - Candy Red Lacquer in 1992.
TJJ: And finally, what's on your plate? What's next for you?
I would like to get involved in a restoration or recreation of the right old custom or crazy show car – It would be nice to work with some of my old friends again. I would like to paint more, but the chemicals just don't agree with me and the new stuff is such a mess to work with. If it had been this hard and expensive to do paint back in the fifties custom paint would have never happened.
Paint & body work was always hazardous but the new paints are way more lethal and all of the costly equipment and materials required have taken all of the pleasure out of the process for me. I can't breath it any more, wearing a space suit to just spray a few spots of color on one of my "art" pieces doesn't work for me either. I have to have some freedom to function. I used to almost dance around a car when I was painting lacquers. Now, I have to suit up like a deep sea diver and lumber around the booth like a robot. That sucks.
————-
84

Comments on the H.A.M.B.