The Miller Passenger Car
The early 30's racing scene featured a head-to-head brawl between front-drive and rear-drive race cars. It was a natural move for Harry Miller to combine the philosophies and create one of the world's first four-wheel-drive race cars. Many think the process of development was the straw that broke the camel's back or, in this case, Harry's financial stability. He would be broke a short time later.
Between the inception of the four-wheel-drive (long for FWD) system and Harry's financial downfall, the Miller team was able to add to their already incredible legacy. First, the FWD race cars did work. They were fast, handled decently, and made good appearances at Indy and even a few Grand Prix venues. This success lead Harry Miller down his last real adventure – The Four-Wheel-Drive Passenger Car.
Harry had always meant for his FWD racing platform to be translated into a passenger car. The dynamics set themselves up beautifully and who could deny the wonderful possibility of a four-wheel-drive supercharged 4-cam V-16 built to terrorize the street? Just the notion of possibility got Harry excited.
By 1933, Harry had found two buyers for the car and got to work. He did what he always did – built the best car he could with what he had. Of course, by this time he didn't have much… The depression combined with Harry's latest financial failures left the man with no way out. Bankruptcy.
Before the inevitable, however, Harry did get one car somewhat complete. By all accounts, it was incredibly fast but just as flawed. The money issues lead to cut corners, two very unhappy customers, and a car that didn't live up to its potential.
Many historians bark about the cheap finish of the car (no chrome), lack of swoopy Duesenberg fenders, and overall failure of the idea. Me? I see a car that was built before it's time…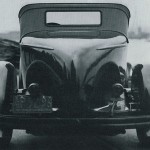 ….
21

Comments on the H.A.M.B.