A Fly in Amber: The di Falco Roadster
In the hobby of hot rodding, the term "daily driver" gets thrown around more than it probably should. There are people who make exceptions for rain, darkness, traffic and things of the like, which quickly dilute the credibility of the statement. Throughout our sport's history, many of the cars we now call iconic were driven daily simply because their owners didn't feel like taking the bus. And on the most basic level, isn't that the point of all this?
As I walked up to David di Falco's shop in downtown Petaluma, California, I instantly recognized his daily driver—a Model A roadster with weathered paint like an automotive core sample—parked out front. It was a Saturday morning, and he had the garage door open to let in the warm spring air. He signaled for me to ignore the "Do Not Enter" sign and step inside.
David looks like a craftsman from a Diego Riviera mural. He's tall and has a sturdy build—a byproduct of decades of competitive cycling. His uniform consists of black slacks and a black T-shirt, both covered by his single-pocket shop apron. Horn-rimmed safety glasses shield his eyes and a Stroker McGurk-style driving cap covers his head.
Rather than working in a forge somewhere near the River Rouge, David owns and operates di Falco Fabrications 30 miles north of San Francisco. His shop shares a long, turquoise building with a kayak rental service and the high-end bicycle manufacturer where he used to work. He doesn't have a sign, website, or even a readily accessible phone number, and other than a few neatly stenciled labels on a row of nearby parking spots, the place is virtually unidentifiable.
It could be said that David is taking a few tips from his old boss and fellow Northern California hot rodder Vern Tardel. Over the past half century, Mr. Tardel has mastered the art of building traditional Ford hot rods using as many original components as possible. He's an accomplished fabricator, teacher, author and land speed racer. He's also notoriously hard to get in touch with.
Much like Mr. Tardel, David's in the business of putting old cars back on the road. When I showed up, he was working on an exotic looking four-cylinder destined for a Morgan Plus 4 Super Sport. In the aftermath of another shop's botched 45-year restoration attempt, David took hold of the little two seater and started rebuilding it from the ground up. Although I never saw the body during my visit, I quickly realized the underslung chassis—complete with knock-off wires and baremetal fenders—looked right at home in David's eclectic shop space.
Di Falco Fabrications is filled with markers from the ever-changing roadmap of David's life. There's the portrait of his late father, a typesetter at a San Francisco newspaper, tucked into the old wooden desk a customer gave him years ago. There's the drop of oil from the Trans-Alaska pipeline suspended in a small glass cube: a gift from his mother who worked as an engineer on the project in the mid-'70s. Up near the rafters, there's the custom made bicycle that caught the attention of the future Mrs. di Falco back in the 1990s. And in the back of the shop, past the kayaks and canoes and bicycles and engines and things with wheels and things without them sits an almost-complete minibike. It's a real little thing with tons of trick engineering and hammertone green paint like you'd see on a piece of mid-century industrial equipment.
Back in 1967, David was just shy of his tenth birthday. He was one of six di Falco kids growing up in South San Francisco, an industrial city now known for biotechnological progress situated a few miles down the map from San Francisco. During the summer months, his parents sent him and his siblings an hour north to Santa Rosa to stay with their cousins. Here he was drawn to their minibike that had since broken down and been cast aside. They cut him a simple deal: if he could make it run, he could ride it all summer. "I got it running and it changed my life," he says, smiling. "I felt freedom. I could ride through these orchards and go anywhere away where they didn't know where I was going—motorized—on something that I made run."
That feeling has stuck with David for the past 40-some years. He's always worked with his hands, whether it's building lightweight, precision-engineered bicycles with complex curves and carbon fiber components or the channeled, flathead-powered roadster that served as his daily driver for nearly a decade.
To the Streets
As I wrapped up my last few shop photos, David stepped outside and started removing the roadster's louvered three-piece hood. "I took my time," he says, unscrewing each dzus fastener to uncover the engine. "Because it didn't matter, I wasn't trying to make a living on it, I went above and beyond in some ways, but it was fun."
Fun. It's an element of this hobby that's easy to lose sight of. But for David, that's never been an issue—especially on this car. You see, he's always wanted a Model A roadster. During his younger years, he envisioned himself in a '28 or a '29, but as he grew older, his tastes changed slightly. While welding for Vern, David put out some feelers that he was trying to start a project of his own. "I said 'If you ever find an unrestored or unaltered post-war hot rod, I want it. I don't care what kind of condition it's in.'"
And that's exactly what he got. While Vern was out looking at another car in Central California, he came across this yellow Model A sunken into the silt. "Both axles were underground," David says. "The wheels looked like a '70s sculpture, so they pulled it out with a tractor." With the car safely back at Tardel's in Santa Rosa, he begged to buy it. "I did a trade with him. I basically sold my soul."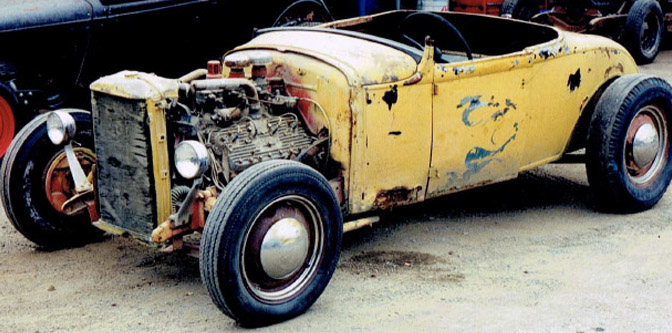 David spent two years paying off the roadster through extra work at Vern's. He dedicated three weekends every month—plus Wednesday nights—to tearing apart the Model A and reassembling it into the car you see here. His starting point was solid: a channeled '30 that had been hot rodded in the 1950s. It had all the right stuff from the dropped front axle to the full-race, three-carbed, GranCor-equipped flathead. The previous owner strengthened the original Model A frame with a shoddily installed '37 Ford X-member, but there were no signs of the floor ever being reinstalled.
David says the "hillbilly engineering" appeals to him; these small touches give this car its distinct personality. Take the front shock mounts for example. They were originally made out of angle iron, so he kept them that way. The same applies for much of the hardware, as well as the paint and bodywork.
Ever since the car hit the streets, everyone's eyes have been on those patch panels. "I did this as a joke originally," David says, "but it's one of the design elements that affected everything else I did on the car from that point on." To the untrained eye, these pieces of green sheetmetal seem as if they were riveted to the roadster in somebody's backyard during the Eisenhower administration. A closer look reveals they're actually attached by screws, not rivets. Through his usual attention to detail that he learned from decades of precise fabrication, he created a fixture to ensure their spacing was exact. He says people who have seen his other work can't wrap their head around this one. In that same vein, David's wife created the patch panel above the decklid that houses the fuel filler and Morgan gas cap.
After working with Vern to dial in the chassis, David stayed true the early hot rodders and ran a succession of stock flatheads. These motors got him back and forth from work and anywhere else he needed to drive for 10 years. It wasn't until 2013 that he built the current engine, a 276 cubic inch flathead based on a '52 truck block bored 5/16ths over. It has 8BA rods, Egge pistons, Navaro heads, Winfield SU1A cam and a four-inch Merc crankshaft. It's backed by a newly installed Packard trans.
Although there's a lot to like about the current flathead, David's especially fond of the Slingshot manifold that houses the dual Strombergs. When Tardel was looking to reproduce them, David let him borrow his original Edelbrock example. The copy came back and looked great—but Tardel's name was cast upside down. Rather than viewing this as a problem, di Falco saw this as a unique accident (kindof like the highly coveted "Inverted Jenny" postage stamp, he says) and he traded him his original for it. Using leftover links from customers' bicycle projects, he created a one-off progressive linkage to actuate the carbs. The whole setup is pure David di Falco.
David's Model A isn't a complex machine and he doesn't treat it as such. It has quirks; it has squeaks. It sometimes rattles. He knows where each sound is coming from and has already considered its significance and severity. It's not that the roadster's old news to him—far from it. He knows its language, its ratios, its guts and its skin. He knows how and where the body flexes depending on who's riding shotgun. He shuts the doors firmly enough so they latch but gently enough not to damage the 80-plus-year-old steel.
He's nothing if not natural looking behind the wheel of the old Ford. Reclined in the re-covered bench seat, he tucks himself into the interior so that he peers out from just beneath the top of the chopped windshield frame. The frame, rusted and flaking, also came from the Tardel compound. David says it was the roughest one he could find, and there's a strong chance it could be original to the car. I'd like to think so.
From Page to Present
I discovered David's roadster 13 years ago in the pages of The Rodder's Journal. Issue #24, page four, lower left hand corner. Article title: "The World's Least Important Car Show." David had driven to Antioch for the 2003 Billetproof show and subsequently appeared in the magazine that I'm sure the majority of you have on your shelf. The caption read:
"Billetproof was created for cars just like Dave DiFalco's (sic) 1930 Ford. The channeled Roadster is his home-built daily driver. Power comes from a hot '48 flathead that's mated to a '39 Ford tranny and a '40 rearend."
That image stuck with me. Last summer, I had just moved to California and serendipitously ran into David at the grocery store in Petaluma. I couldn't believe that there, parked in the sea of soulless Toyotas and Hondas, was the little yellow Model A roadster with its patch pannels that I had seen in TRJ more than a decade prior. Although we hadn't met before, we talked hot rods and writing for a few minutes, exchanged contact information and went our separate ways.
Nearly a year later, I had daily drivers on the mind and that image of the roadster surfaced. One phone call later, I was on my way back through downtown San Francisco, across the Golden Gate Bridge and into Sonoma County to catch up with David and see what the di Falco roadster was all about.
Out on the streets of Petaluma, people recognized David in the car. We made a quick stop at the local hardware store, rumbling through downtown. An open hand to the sky signals he's turning right, a point to the left indicates the opposite. (These movements have become second nature for di Falco. On more than one occasion he has accidentally smacked his hand on the window of his wife's late model while signaling a turn.) From inside the channeled A, we get a 360-degree view everything happening around us. People walking, shopping, eating. Old buildings, storefronts and streets that famously set the scene for George Lucas's American Graffiti more than four decades ago.
Hot Rod Havoc
After leaving town, David and I spent a few minutes shooting some photos at a nearby stockyard. Once I got the material I needed, David swung the car around the lot and looked at me. "If I were younger, I'd do a donut." I nodded. "You know what," he said. "Why not?" The flathead gargled as he spoke. The place was empty, and the only movement came from a few sheep swaying by the watering hole in the neighboring corral. He rolled the roadster into position and mashed his foot to the floor, simultaneously opening up all four barrels. With the steering wheel clocked to the right, the rear wheels started spin and a barrage of gravel launched from beneath the tires into the sky. Rocks rained down in waves while David and the roadster disappeared in the bank of haze. When he emerged, a toothy grin filled his face and he signaled for me to hop in. I swung the door open and secured my lap belt.
A man sprinted towards us. "What the f— do you think you're doing?" he yelled. "My parking lot! My parking lot; you've ruined it!" With each word came a mist of saliva. David killed the engine and looked directly at the man, who was now standing just inches from the car. "I'm sorry," David said. "I live here in Petaluma…" The man cut him short. "Give me your licenses. Now!" We complied, and David removed the registration from the steering column. Without saying what he was doing or where he was going, he trudged across the lot and slipped out of sight.
"Adrenaline," David said, reclined in his usual position behind the wheel of the roadster. He looked relaxed and admittedly ready for whatever was going to happen next. In the past two decades, he had only been pulled over once and that didn't even count; it was merely a classic case of the patrolman wanting a better look at the car. This time, it didn't seem like we were going to be that lucky.
Several minutes later, the man returned and told us we were never allowed on his property ever again. We apologized, and after we reclaimed our paperwork, David extended his hand and introduced himself. The pair shook hands and we drove out of the lot and onto the two-lane highway that linked us back to the rest of the world.
The roads we took were nothing new to David. He told me we were retracing his old commute to work, back when he was doing a lot of fabrication for Vern. After a mile or two on the highway (traveling at 57 miles per hour, according to his calculations) we moved to the back roads, sometimes shaded with greenery and sometimes lined with single story homes and the businesses of yesteryear. He pointed out the roadhouses like THE 8 BALL (they got a new roof but kept the neon sign). Gas stations, corner stores and period pieces of a different era. California history. Local history. History best seen from inside a roadster.
We continued north to Tardel's in Santa Rosa to see where the car was built. David directed me to the parking space where he first saw it—with its flaking yellow exterior and hints of flames painted on in a past life. He showed me the section of the driveway where he "gravelbacked" for months, crawling around on the ground as the roadster took shape once again.
It wasn't until we left Vern's that the whole picture came into focus. On the surface, this is a story about a man who built a car to take him from one place to another, day after day. Depending on where you stand, that's all this is. But after spending that Saturday with David—bombing around the back roads, getting yelled at by some sort of authority figure and eventually running out of gas in the middle of downtown Petaluma—I realized how much more there really was. This roadster is a preservation project for the modern era. It combines the best qualities of an archaeological dig and blank canvas while maintaining an honest 1950s persona. And in a way, David says, it's like a fly in amber. When I asked him about building this car and how he felt about preserving history, he answered simply. "I didn't create the patina, I just didn't get rid of it."
—Joey Ukrop
***
62

Comments on the H.A.M.B.