The Zephyr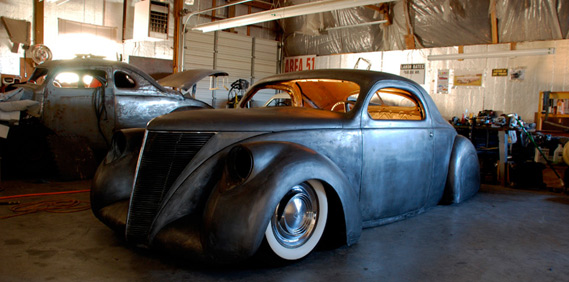 A little over a year ago, I headed a few miles north to interview a hero of mine – Gary Howard. You might remember that towards the end of the ensuing article, I mentioned that Gary was knee deep into his next project and that it was shaping up to be a special one. Yesterday, I took another trip north to hang out with Gary, his brother, his nephew, and his latest custom.
Now, I'm going to do my best to keep this brief. I've long felt that customs are like fine art – better looked at than spoken or written about. A fine custom car tells its story with lines, not words and I don't want to get in the way of that. Even so, a little background is in order.
Dr. Dan Peterson (Austin, TEXAS) had a wish list that included a 1937 Lincoln Zephyr, so the buy decision was an easy one when a solid example became available. Over the course of a couple of years, Dan had an Austin local, Mercury Charlie, create a driver. A modern overhead, slush box, disc brakes, and air bags were all installed and relied upon. The body, however, remained stock and untouched. In fact, the little Zephyr caught it's fair share of attention rolling to shows such as the Lonestar Round Up and Paso Robles with its slammed stance and patina'ed sheet metal.
The Zephyr as a driver.
Even so, Dan had a plan in mind. He had always admired the work that trickled out of Gary Howard's Georgeown, TEXAS based shop and knew the Zephyr would be in capable hands when the time came to finish out the car. At first, it was going to be a simple body and paint custom. Then, Dan stumbled upon a Lincoln v12. Everything changed.
The flathead motor almost forced a different perspective. Such a jewel required an environment that supported its ancestory. This Zephyr wasn't going to be your typical "modern day" custom. It was going to be an exercise in style and line influenced predominately by the Westergard era and Gary's own eye for shape and form.
Fast forward a couple of years and here we are.
Not a single panel on this car has gone unconsidered or untouched. A list of modifications performed would be almost impossible to contemplate. And to me, that's what makes a bare metal photoshoot so important. The welded seams show direction. The grinding patterns show love. The lead pools show craftsmanship. Essentially, this is Gary Howard… Naked.
Looks pretty remarkable – doesn't it? It's taken an untold amount of hours to get the Zephyr to this point and there are just as many hours left until it's finished. Studying it now is a lot like viewing an oil painting half way through the process of layering. It reminds me of a quote I found from Claud Monet:
"Painting with an audience assures honesty. There is simply no way to hide process or progress. One just works… and hopes the audience understands that everything is a means to an end."
As I was leaving the shop, the fellas were busy stripping the car back down. Once finished, it's off to Austin Speed Shop where Bleed and the boys will complete the motor mounts, redo the chassis, and generally get the mechanics up to snuff. After that, it's back to Gary's for final body and paint.
Of course, the biggest remaining question left to be answered is color. Dan and Gary are holding their options pretty close to their vests, but I'd be willing to bet the house on a darker shade. It will pop nicely on a white museum wall… Or, a white studio back drop (Coonan, you listening?).
I'll be sure to keep you updated.
…..
79

Comments on the H.A.M.B.