A Simple '49 Ford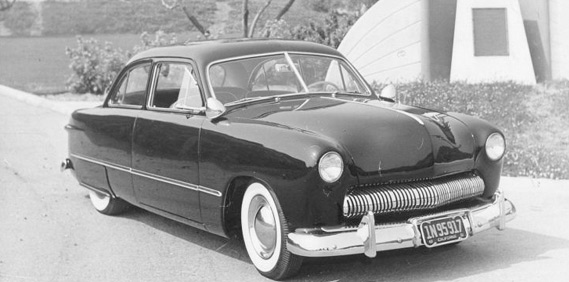 I was fooling around on Rikster's site this morning and stumbled across the above shoebox Ford. Now, it's no secret that I love 1949-51 Fords, but I've never really appreciated the proportions of unchopped sedans. They've always seemed a little awkward to me when compared to the business coupes and vickis of the day.
Every now and then though, I find one that moves me. This '49 was owned by Dave Peters and built by Valley Customs. To me, it represents a perfect example of simple and subtle design. Shave most of the shiny, but leave the highlites to break up the slab sides and give some texture. A Merc opening and grille cleans up the front end along with frenched headlights and a clean bumper treatment. It all blends perfectly with the dark paint (black?) and reverse rake.
It's just exactly what a mild custom should be and nothing that it shouldn't be.
……….
30

Comments on the H.A.M.B.