The Tragic Tale of the 'City of Salt Lake'…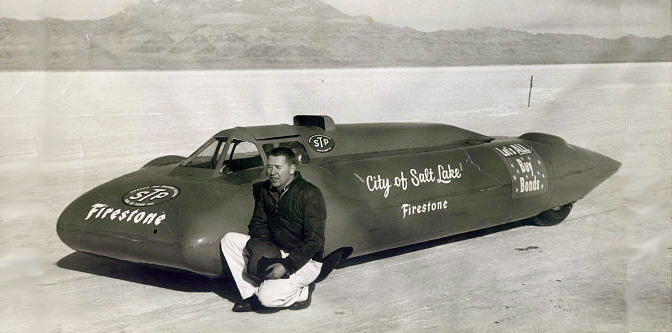 August 1st, 1960: Athol Graham strapped into his home-built racer, the 'City of Salt Lake', and told his wife Zeldine, "See you at the other end."
She replied, "Good luck." and off he went down the long salt strip in hopes of setting a new land speed record. A few months earlier he achieved 344.7 mph in a test run, so his hopes were high.
Only 47 seconds into the journey he was already well over 300 mph when one of the cast magnesium wheels likely failed and the car went airborne, bouncing and rolling for well over a half mile. The 36 year old husband and father of four children would not survive the crash.
The dream began a few years earlier when the Canyon Motor Co. mechanic figured that a local guy from Salt Lake should have a chance at the record as much as anybody else. 'The City of Salt Lake' was built at Graham's shop for $2500, where along with his assistant Otto they cobbled together the body sides using B-29 belly tanks, the canopy from a P-51 Mustang as a cockpit, and powered it with an Allison aircraft engine mated directly to a GMC heavy duty truck differential (It had no transmission, as Athol essentially used a torque converter from a diesel truck). The build took many long nights, but the goal was clear: Break into the record shattering zone of 400mph, that only Sir John Cobb (394.2 mph) and Mickey Thompson (351.95) had gotten closest to – But he would try on a tiny fraction of their budget and resources. God Speed Athol Graham.
67

Comments on the H.A.M.B.