The 2008 H.A.M.B. Drag Nationals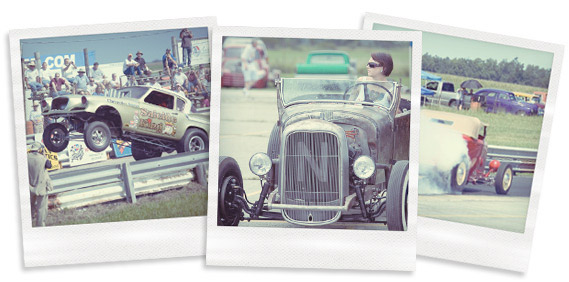 Wow. It's over… Every year on my drive up to Missouri that's all I wish for. I wish for the damn thing to be over and for everything to be alright – all the participants to be happy, all the bills to be paid, and all of my promises fulfilled. It's stressful and scary and those emotions always seem to make me forget how much fun the whole thing is as well. This year was no different.
In fact, I'll go ahead and say it – the 2008 H.A.M.B. Drags were the best yet. We had 191 really high quality cars registered to race and a day full of action. Carl and the boys at MoKan Raceway worked the track more efficiently than I could have ever hoped for. Even with the large field, it was rare for anyone to suffer through much of a wait in the staging lanes. In fact, a couple of cars actually got in more than 10 passes!
There was a lot of luck as well… With the threat of weather looming, we decided to open the gates early and get the action going as soon as we could. Incredibly, the color packed weather radar dispersed and we didn't see a drop of rain all day. That luck continued on the track. In almost 9 straight hours of racing action, we didn't have a single major oil down, accident, or problem.
And how bout that action? Where else could you see an absolutely perfect flathead powered '34 roadster go head to head with a similarly perfect and overhead Olds powered '32 coupe all day long? It's hard to put into words just how dreamy the racing action is at the H.A.M.B. Drags. Studes and FED's going nose high, matching '55 Chevy gassers burning off the line, full-length push starts, Nitro burnouts, aluminum fendered stock cars, street cars, customs, etc…
At the end of it all, I'm left standing exhausted in a dark hotel parking lot. The Saint Joe crew is smashing beers and telling lies, the Oklahoma crew isn't far behind on the count, mini bikes buzz, people laugh, and it all comes to a conclusion of sorts. I know I'm biased, but this is the best damn drag race in the country. It just doesn't get any better. And I have a ton of folks to thank for it:
1. The Girls. If you've been to a Nationals, you know this event is pretty much ran by the women in my life. First is my wife Marcie… She makes it all happen. And then, of course, there is Katie Montgomery and Kristen Kennedy. Marcie's best pals never fail to show and always leave a mark. And last (but certainly not least), there are Marcie's sisters… Jill and Holly make this a family deal. Nobody works harder than this group fellas…
2. The fellas at MoKan. Very few tracks could pull off what these guys do year after year… We are lucky to have Carl and his boys on our side.
3. The La Quinta Hotel and Bob K. You can imagine that we aren't the easiest group of folks to deal with when we come storming into town. The Joplin La Quinta makes it look easy… and they do it with lots of patience, time, and a few plasma screen TVs. And of course, who could forget Bob for taking care of our lodging needs?
4. Bill, Stan, and all of those that participated in the silent auction… It will be for a damn good cause.
5. Kevin and Tuck for helping us close up shop.
6. All of the folks that came out and watched or raced…
See ya'll next year. Until then, check out all of the coverage.
50

Comments on the H.A.M.B.