The Cannarozzi Flathead
Editor's Note: I'm going to wake up tomorrow without an internet connection and no real way to post this. As such, here's Monday's post a day early. Enjoy it!
So, a few of you fellas have been following my build thread the last month as Tardel works over a '29 roadster for Randy Cannarozzi. From the very beginning, we've said that the real heart of this build is the Flathead Ford that will be mounted between the deuce frame rails. It's an absolute monster of a motor that Keith built a few years back as a backup plan for Randy Cannarozzi's Bonneville effort.
At 3-3/8″ bore by 4-1/4″ stroke, the engine comes to about 306-inches. Navarro heads handle the combustion while a duo of new Stromberg 97's perched atop a Tattersfield intake handles the mixture. Crazy ass dome pistons and a "let's go 150mph at Bonneville" cam completes the package. Details are a bit hazy, of course… I mean, speed secrets are called "secrets" for a reason – right?
Anyway, last week Tardel finished buttoning up the motor and I decided a feature was in order. I woke up early, got to the shop before sunrise, and shot the thing with a fast lens and a flashlight or two. The below photos are the result:
Once the shoot was wrapped, I noticed I had one shot left on a roll of black and white film. Rather than it go to waste, I fired it at the engine and then quickly took it to my darkroom. Pure luck got me my favorite shot of the session: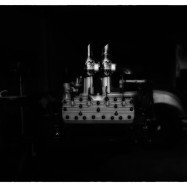 If you are into this stuff and want to read more, check out our build thread here.
***