Tom Cobbs: Part 2
When we last left you, Tom Cobbs had just lost the first ever legal drag race to Fran Hernandez. In doing so, he became the first to race a blown flathead Ford and the first to race against a nitro fueled car. Of course, we went on to tell you about Tom's hand in a number of records set in some of the most important hot rods and race cars our history has to offer. We also left you with a number of questions unanswered.
Who exactly was Tom Cobbs and whatever happened to him and his amazing little roadster?
Tom Cobbs was born on January 25, 1925. His mother was a doting house wife; his father a very successful tobacco trader in Europe and China. There is little doubt that Tom was more privileged than most. He grew up with opportunity – the kind of opportunity that only a stable family and money can provide.
This solid foundation lead many to believe (then and now) that Tom was more of a money guy and less of a hands on hot rod guy. The truth, however, contradicts those ideas. By 1947, Tom had moved to Santa Monica and befriended Stuart Hilborn. Together, they learned about speed and how to accomplish it consistently and reliably.
You can almost visualize the two in an old and poorly lit garage somewhere in Southern California. Stuart at his work bench hunched over his latest idea for mechanical injection and Tom at his, studying a 3-71 blower and considering boost pressures. In any case, this was no environment for clean fingernails and fat wallets. Tom Cobbs was a hot rodder.
That's not to say Tom didn't use his financial status to his advantage. In fact, he often had the parts everybody else wanted, but couldn't afford. The latest quickie from Halibrand, exotic magnetos, Italian blowers, etc… Tom was usually the first kid on the block with each and being the first meant he also had to figure out a lot of things on his own. His first flathead blower motor is a perfect example.
Once Tom had machined all of the necessary parts for adaptation and had the blower mounted, he began a series of dyno tests using Stuart's dynometer. Big power numbers gave Tom confidence in his blower theory, but plugs quick to foul told him that his ignition system just wasn't up to the task. A quick call to Harman & Collins for the appropriate and expensive magneto setup solved the problem.
An instance like this brings clarity to the drivers behind Tom's success. Put frankly, there just weren't many people around that could do what Tom was capable of. They didn't have the knowledge or the foresight, they didn't have access to resources (such as Stuart's dynometer), and even if they did have all of this, they didn't have the money. Tom had it all.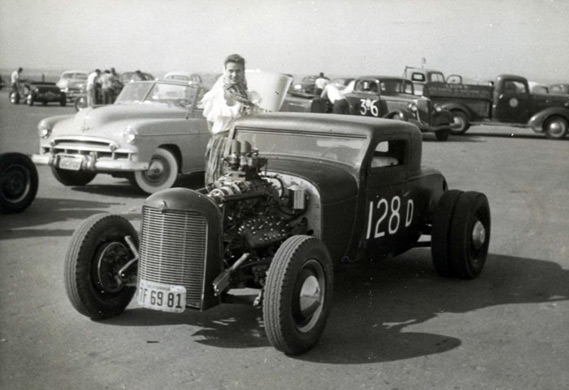 And the proof, as they say, is in the pudding. Tom was as successful at Bonneville and the early drag strips as anyone. He won points championships, set records, and burned a trail of innovation that is really unmatched by any of his peers. Tom was a founding member of the Glendale Coupe and Roadster Club which went on to be one of the founding clubs of the Russetta Timing Association. This, of course, lead to Tom taking home the "D" Roadster trophy for 1948. A few years later and he became the first to use a crank mounted blower setup – an innovation that helped him win the SCTA points race in 1951. From this period all the way until 1964 (when he again won the "C" roadster class at Bonneville), Tom was responsible for well over 50 broken records and first place trophies at various venues.
If numbers don't lie, then Tom Cobbs was the most dominant speed competitor of the late 1940's and 1950's. He accomplished as much or more than guys like Vic Edelbrock, Barney Navarro, Art Chrisman, Mickey Thompson, and Stuart Hilborn. Yet still, most of you have never heard of him.
Mystified, I decided to give Alex Xydias a call. As previously mentioned, he teamed with Tom on the So-Cal Coupe and figured to be my best shot of getting some kind of a line on Cobbs. "Tom was a mystery to us all. He was really quiet, really reserved, and very hard to get to know," said Xydias. "We worked incredibly hard together for five or six weeks when we thrashed to get my coupe ready for Bonneville in '53. During that time, I'm not sure he said more than a couple of words."
Self promotion (or hell, talking of any kind) was not a strong point for Tom.
By the late 1960s and as far as we can tell, Tom was mostly out of racing and hot rodding. He kept his '29 roadster in tip-top street shape and would take it out every now and again, but that's as close as he would get to reliving his early years. It's uncertain as to why Tom left the hot rod world so suddenly and without explanation, but I'm guessing his priorities shifted – kids, family, that kind of thing… In any case, I thought and researched and thought some more – just looking for an angle to explain Tom's legacy. I couldn't find one. I don't know why Tom's name isn't a household name. I just know that it deserves to be.
Tom Cobbs passed away of natural causes in September of 2007. Although he never reentered the hot rod scene that he was so hugely responsible for creating, he never liquidated his inventory either. After Tom's passing, his family listed a few of the items in his garage on eBay. These items drew the attention of Ralph Whitworth who is an avid and very serious collector of all things fast. Although the items didn't sell at auction, Ralph found himself at the family's home in Woodland Hills, CA just a few weeks later.
The scene was put together like something found in a hot rodder's fairy tale. A number of storage units and garage spaces were just packed full of vintage speed equipment and tools. Flathead motors, blower setups, carbs, quickie rears, heads, lathes, tools, notebooks full of blower tuning procedures, etc… You name it and Tom most likely saved it.
Among Tom's stash was a number of complete and incomplete motors. One of these motors is a bit mysterious. It's a heavily relieved flathead block featuring a unique and finned aluminum oil pan. While we aren't exactly sure of the origins of this motor, we are fairly certain that it has history yet to be discovered. The other flathead in the bunch, however, is a little more recognizable. It features the original blower setup used on the So-Cal coupe that Xydias and the boys broke the "C" class record in during the 1952 Bonneville Nationals. The third and final motor is none other than the first ever race built small block Chevy that Cobbs engineered to 198.868 mph in the Peirson Bros. coupe in 1956.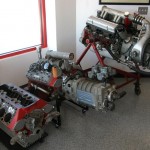 Ralph is still very much in the early stages of learning about everything he has found. Through the years the motors were assembled and disassembled using various parts and components from project to project. It is probable that he has the complete and original motor from the So-Cal coupe and possible that he has a few other significant completes as well. Fortunately, Cobbs kept a very complete library of notes. So given time, Ralph should be able to put the pieces of the puzzle together. At this moment, it's almost like an archaeological dig – mysterious, exciting, and just down right fun.
Obviously, this find is already starting to rank among the most important historical uncoverings in the history of hot rodding. However, we haven't even touched on the little roadster yet.
We will do that next week… Stay tuned!
……..
50

Comments on the H.A.M.B.