Hot Rod Trucks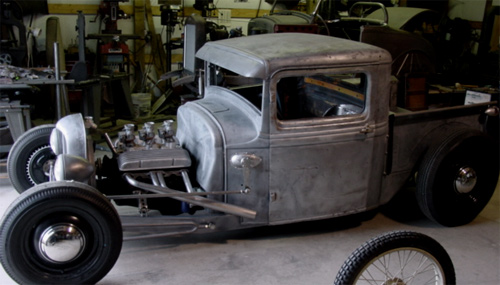 We went over this whole hot rod truck thing a couple of weeks ago. Conveniently, Hillbillyhell has just posted his latest project on the H.A.M.B. and it represent what I consider to be the golden goose of truckdom. Let's go over the particulars…
This '34 is slammed. It got its stance by way of a very gentle "z" that spreads from the firewall all the way to the front crossmember. This method of cutting the chassis is a much more eloquent solution than the abrupt "z" that we are used to seeing. It just flows so well and makes the mid-frame mounted hairpins an integral part of the car's lines.
Of course, another really nice detail is the subtle channel. It's only subtle because the builder went to such great pains to make it so… The cowl notch is simply brilliant and works perfectly with the cowl steering. The chop is just right and the bed is simply art.
Dig on more photos… And yea, we told ya so!