The Race Of Gentlemen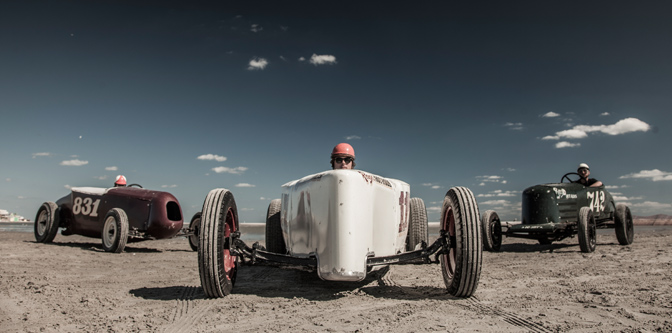 Well, the goddamn thing is over now. It ended, for me anyway, on Sunday afternoon with all the grace and meaning of a banger motor backfiring in the parking lot of the Blue Palms Resort – scaring the shit out of everybody in range, from the people that had a hunch it was coming to the swarm of "innocent bystanders" that still don't know exactly what it was that interrupted their casual walk down the boardwalk. There was a weird, unsettled, and painfully incomplete quality about the whole thing.
I don't even know where to start, so I guess I'll start from the very beginning of my story and how I ended up in Wildwood, NJ last weekend.
A few months back, I decided that it was time to take my six-year-old son to his first hot rod show. He's been to plenty, of course, but never a show with his dad at full attention and not working a booth of some sort. In preparation, I gathered a number of photos of different events from across the country and told him to pick the show he'd most like to attend. Ever the beach kid, he decided on The Race Of Gentlemen.
As the months went by, Miller got more and more excited about the prospect of playing in the sand with his dad as hot rods roared by in the background. One evening while preparing for bed, he was looking over the images of the show that I put on his iPad and asked an innocent enough question. "Dad, what does the 'CC' stand for on all of those Oilers jackets?"
Curious as to his own notions, I asked him what he thought it stood for. "Oilers Clothing Company?" he asked. That's really the moment when the light flashed on for me. It was at that exact point in time that I set myself up for what would become both the greatest of failed expectations and the most epic of realizations that I've had for some time.
See, there's a catch to The Race Of Gentlemen. As drivers navigate the sands of a Jersey Shore in their period perfect hot rods, they are expected to do so while dressed appropriate to the time period that the event emulates – the 1930's to the 1940's or so. Past events have been so successful at these "make believe" notions that even people like Ralph Lauren have taken notice. In fact, he invited the Oilers to his flagship shop in NYC for a pre-party just last week. From what I've been told, it was a huge success on all fronts. Ralph gained some street cred and one can only guess that the Oilers gained some fashion tips in exchange.
So that's the set up… And one that I felt was going to be ripe for the ripping. Men and women dressed in costume and pretending to be anything but themselves as they tried their damnedest to get their patina'd roadsters to a speed that just might rip their poor boy hats right off their heads? My god man, what could be more fun to write about than that?
Johnny Joyo, Miller, and I arrived in Wildwood, NJ early on Thursday afternoon. We were met by a ghost town littered with one incredibly restored 50's era motel after another – each with empty parking lots and matched by a closed diner or two. I was beginning to think the joke was on us until we ran into Coby and Mark (Coby's brother… otherwise known as one of the best NHRA photographers on the planet) in our own empty hotel parking lot. "Are you shooting this weekend?" Coby asked. "I mean, what are you gonna wear? I was told we had to wear jeans or khakis, a white or black t-shirt with no logos, and that our hair had to be slicked back if we didn't have an appropriate hat."
Slowly, the town began to fill with people and cars. Relieved that we hadn't been taken for some elaborate hoax, we perched on our third floor balcony like birds of prey and prepared to make fun of people dressed as Charlie Chaplin from above. Even our room neighbors, the gentlemen from Dice Magazine of all people, joined in our excitement for what lay ahead. The hijinx that Saturday promised could not come soon enough.
On Saturday morning, I was awoken by the sounds of vintage motors of all types as well as by Miller shouting, "Daddy! Daddy! Wake up! The hot rods are coming! Let's go! Let's go!"
I wanted to be imbedded into the scene, so I dressed as neutrally as I could hoping to fit in well enough, but not so over-the-top as to be the butt of my own jokes. I wore Levi's, a button down shirt, and a negro league baseball cap cut from the same 1951 cloth as the originals. The boots fit the vibe as well, but also helped keep the sand from my socks as we walked under the boardwalk and through the 300 yards of sand that separated us from the shore line and the track.
As Miller and I approached the venue, the scene cleared through the early morning fog.
The Race of Gentlemen is nothing if not detail oriented. The race grounds themselves were quartered off by beach fencing. Each major sponsor was protected from the elements by what looked to be vintage circus tents complete with original tie-downs, hardware, and roof mounted wind socks. The food vendors were housed in reclaimed wood sheds that were assembled on-site much like the vintage-style timing and photography towers that lined the track. And then, of course, there was the glorious event headquarters – a WWII era General's tent capped by a vintage Craftsman sign (a show sponsor).
To put it bluntly, the scene was breath taking. To see such effort and passion put towards what most take for granted… and then to see it flanked by the glorious Atlantic ocean as she beat the beach with all of her might. Even Miller wasn't sure of what he was seeing. It was so striking that I almost forgot my purpose of ridicule and fun… my purpose of journalism. It was as if the promoters were tying to bribe me by flirting with my passion for design and all things old.
But my will to write is stronger than that man. I kept my focus… that is, until we walked right into the pit area of The Race Of Gentlemen. Never have I seen a more focused group of traditional hot rods and bikes that spoke to me so loudly and so clearly. Right down to the last roadster, every car was appropriate to the venue and the vision of the Oilers and their "clothing company." Everything fit with precision. It was a perfect field… So perfect, that I began to think again about the passion and dedication of the people that put this thing on.
Editor's Note: Can you imagine the kinds of emails these guys must have gotten as they turned down what must have been 9 out of every 10 cars that tried to register for this event?
My expectations of before were beginning to go right down the shitter, but weren't entirely flushed until the cars and bikes began to make their runs. The site of all these remarkable hot rods roaring along the shore as the waves kicked mist into the air and the tires sand… Jesus god man… F. Scott Fitzgerald could not adequately paint the picture with mere words. I can't even begin to tell you just how beautiful it was.
Towards the end of the day, I sat by myself on top of a sand dune while Miller played in the sand below. The pitch perfect voice of the play-by-play man with a keen sense of humor provided sounds when the engines didn't. Seagulls flew around aimlessly hunting an easy meal. And photographers scurried about in their costumes trying to capture it all.
It was then that I realized what a shitty outlook I have had and how jaded I had become. I went to The Race Of Gentlemen with the expectation of seeing people at their silliest. I came away reminded of how beautiful people can be – all of those guys and gals in period dress made it so damned obvious. They created something I had only dreamed of.
I've been to a lot of incredible events in my time –  the 2010 Hot Rod Revolution (in my opinion, still the best static car show ever held), the 1999 Grand National Roadster Show (the 50th and still the greatest), the 2011 H.A.M.B. Drags (The "Pirouette" event), and many, many others… The most beautiful event that I have ever been to is the 2014 Race Of Gentlemen.
That was one hell of a backfire fellas…
Another Editor's Note: Tim Sutton sent over a mess of photos last night to accompany my article above. Typically, I would edit these down to my favorite 20 or 30, but it was a futile exercise this time around. All of the photos are just so damned good, that I couldn't do any editing at all. So, enjoy all 165 of them… But, make sure the entire page is loaded (it could take a minute or two) before you start clicking on thumbnails – if you don't, the gallery might not work as expected.
………….
116

Comments on the H.A.M.B.