Tradition and Innovation: Part II
A few months ago I wrote an article on the journal about design and inspiration. The general idea behind my thinking was that traditional hot rods and customs don't have to be stuck in a time vacuum. Traditional cars can and should have just as strong a focus on innovation as they do on historical influences. It's this passion for continuous improvement that started the car culture in first place.
So in a word, I guess it's 'innovation' that has always lead me down the different avenues of design looking for details and ideas that translate well into traditional rides. My last entry covered design from a broad perspective as I considered some legendary concepts such as the p51 Mustang and the Eames molded plywood chair. This time I decided to look into the world of early European sports and grand prix cars during a period many consider to be the pinnacle of European automotive design – the late 1930's through the 1950's.
Let's get started…
1939 Alfa Romeo
We start with what many believe to be the most beautiful car ever built – the 1939 Alfa. Of course the body of this car is amazingly sculpted, but there are also some really nice details to ponder. One of the most striking and relevant to our subject is the gauge cluster. The idea is to extend the color of the dash under the gauge glass and then give the assembly depth by adding a contrasting color underneath. It's all set off with white numerals. You end up with a very graphic look that would look right at home on a 40's or 50's era hot rod. Who knows, these guys might even have the skill set to pull off a set…
……………………………………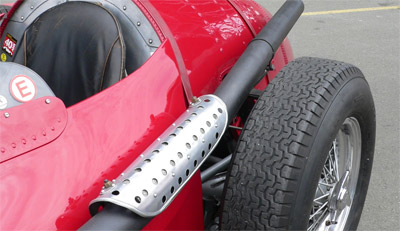 1950 Maserati 250 F
Italians know how to build a hot rod and Maserati was responsible for many of the more inspirational designs of the period in question. Specifically, the 250 F has two significant details worth considering. The first is the exhaust shield seen above. How right would that look on a set of high-headers on a '27 roadster?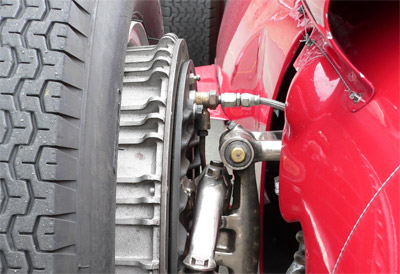 Then there is the famous Maserati braking system… Imagine machining off two finns in between three consecutive on a set of Buick drums. The result would be a much cleaner representation with a look very similar to the Maserati's above. I also love the safety wire.
……………………………………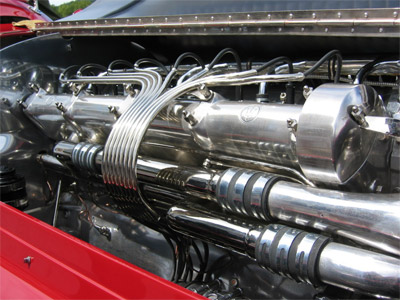 1938 Maserati 8c
Wilbur Shaw actually won the 1940 Indy 500 in a car very similar to this one. I fell in love with the spark plug wire looms. The time it must have taken the builder to form such graceful, uniform, and delicate curves just boggles my mind. Art.
……………………………………
1954 Alfa Romeo
Just when you thought I forgot about the custom guys… A similar taillight bar would be right at home on an early 50's custom. Imagine it set low above a big ole Detroit produced bumper. Very clean and sanitary.
……………………………………
1957 Auston Martin
Leave it to the brits to figure out such an eloquent solution for choosing gears. The copper hydraulic lines are so mechanical and I love the 90-degree fittings and the knurled pedal pads. And that shifter gate? Why don't we see more REAL shifter gates on hot rods? That's a challenge fellas…
……………………………………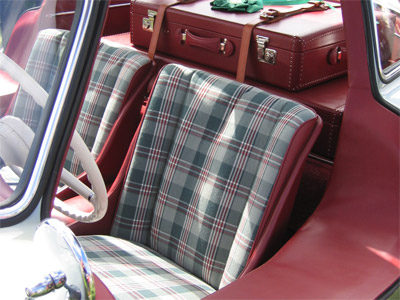 1957 Mercedes Benz 300 SL
European's have always had open minds in regards to interior appointments and materials. While we were running simple gangster stripes on mohair, these guys were doing full on Scotch plaids. I think a similar yet slightly toned material would look incredible in a Westergard style '36 coupe.
……………………………………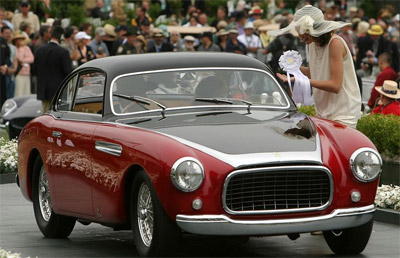 1951 Ferrari 212
Most people claim that the GTOs of the 60's were the most beautiful creations to ever come out of Enzo's house. On the contrary, I've always been enamored with the early v12 cars like this 212. If that grille looks familiar, it's only because it was the inspiration for the egg crate found on the '55 Chevy. However, that's not really my focus on this one. I'm in love with the paint scheme and the liberal use of bright work. There is such a purposeful design philosophy here and I think some of the same ideas could work on a hot rod or custom.
……………………………………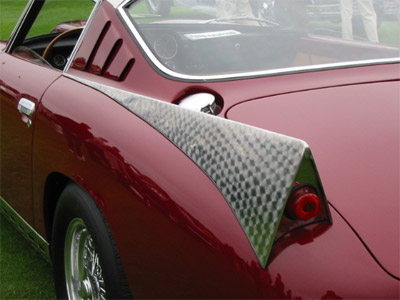 1957 Ferrari 410
This is one you would definitely have to be careful with, but under certain circumstances bringing machined-turned panels out on the body could be very interesting. My first thought would be scoops or blisters on hoods and hood sides. Quality craftsmanship would be imperative here.
……………………………………
1955 Porsche 550
I could go on forever about the details found on these little cars. This particular 550 nailed me with its paint and graphical treatment. It's rare that I see a lettered hot rod that I truly like. There are lots of lessons to be found here. Industrial fonts, perfect kerning, and classic colors.
……………………………………..
That's it for part two fellas. If you have comments or suggestions for even more cars to look at, let us know about it!
Photo Credits: Ryan Cochran & atspeedimages.com
6

Comments on the H.A.M.B.