The 1957 Nationals – Part 2
Milton Arnold saw our post on Monday and got caught up in the memories. See, Milton was in Oklahoma City in 1957 as well… He and he is car club (The Shifters) made their way up from Tyler for the weekend and had an absolute ball. It was just one of those road trips that stays with you forever and Milton certainly has never been able to shake it.
After watching our motion picture, he drug out an old scrap book and scanned the images for us. I've been staring at them all morning trying to find the words… And then it came to me, I don't need words. These pictures tell the story. Enjoy.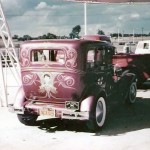 23

Comments on the H.A.M.B.