Gene Winfield Book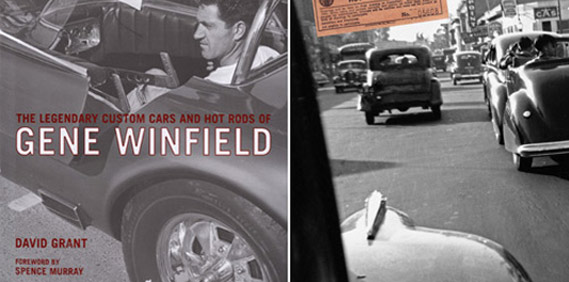 I always feel weird when the Motorbooks boxes show up on my doorstep. I've never reviewed any of their publications, but year after year they continue to send free book after free book. This one-sided affair always leaves me riddled with guilt for a few moments as I open those boxes… I've never been to sure of what they wanted in return.
I guess they send them hoping one will catch my eye and I'll speak up. If that's the case, it finally worked… "The Legendary Custom Cars And Hot Rods of Gene Winfied" is the latest from Motorbooks and I actually like it for a couple of different reasons.
1. The layout and design of the book is really sharp. That's not often a word you use to describe the layout of anything automotive in the publication world. Very well done.
2. Gene Winfield is a pretty interesting guy. He's not as big of a showman as many of his colleagues were, but that only makes him seem more grounded… real. This book does a good job of telling you where all of that comes from.
3. Gene did a few cars that I either know very little or nothing at all about. I've always known that Gene is more than a customizer, but I didn't realize how heavy he was into hot rods in the early days. This book shows and tells this period of Gene's life in pretty good detail.
On top of that, the authors were also able to get a hold of some pretty rare shots of some of Gene's work. A perfect is example is Frank Poli's Ford:
I had never seen or paid much attention to this Winfield car, but I instantly fell in love as I turned to the page dedicated to it. Simple flowing lines more reminiscent of Sam than Gene, perfect stance, great use of brightwork, super creative taillights, etc… A new favorite of mine from Gene.
In any case, I like the book and think you will too. You can buy it here. And there it is… now I won't feel so bad the next time they send me free shit. The guilt is over!
52

Comments on the H.A.M.B.