Why (and when) Fender Skirts Work…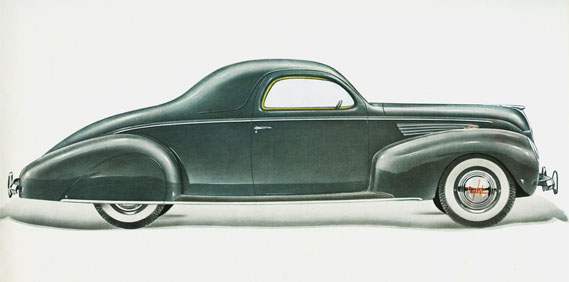 I think most of us can agree that fender skirts look really great under two conditions: 1. If they are an appealing shape and 2. If they are on the right car. Lets look at the appealing shape first; Skirts were meant to imply motion, making a car look like its floating, similar to a speed boat, the back half (the rear wheel) is at the water level and the front half is rising up smartly. An appealing skirt shape looks like a seamless blend with the bodywork, like it was born to be with the car: A bubble shape on a round, deco-era car and a flat shape on a smoother late 40s or 50s car. The lower edge of the skirt should flow from the rocker panel and cover enough of the rear wheel to imply motion and aerodynamics. Skirts (whether factory or aftermarket) should add to great bodywork, not distract from it!
And the 'right' car- This one is trickier because it's even more subjective. I would say that many early/mid 30s to early 60s era custom automobiles can benefit from a good set of fender skirts… But not all of them. Most of us can also agree that tacked-on fiberglass fender skirts on a 70s Ford LTD is equivalent to lipstick on a pig, meaning it just don't look right. On the other hand, a nice pair of steel teardrop skirts make a '39 Ford, Merc, or Zephyr the period-perfect prewar custom, and a set of NOS Foxcraft skirts complete a mild kustom '59 Impala. Like I said, it's all subjective, so think about the skirts that work for you…
106

Comments on the H.A.M.B.