Coach Built & Lost
Remember Geoff Hacker? He's the crazy guy that found the tear drop car not too long ago. Well, I got another email from him the other day and it seems as though he has some other interests as well. In fact, he's doing a book on customs and while researching he found a couple of shots of two cars in Dan Post books that really piqued his interest. So much so, that he is spending a ton of time and energy trying to find out more about each. I'll let his words tell the story…
Geoff Hacker:
These custom cars were built in the late 1940's in southern California. In the August 1952 Motor Trend, one was offered for sale by Jim Neidy – The Hot Rod Shop on Grand River in Detroit Michigan. During the 1950's, both cars were owned by a family in the Detroit area who kept them thru 1959. Both were 2 passenger roadsters with aluminum bodies and sw gauges. One had a Cadillac engine and the other a Mercury engine. Both bodies were nearly identical but each had different grills, windshields, and doors. I'd like to talk to the current owners or learn what happened to both cars. I'm helping the family who built both cars locate their subsequent history and any photos or information that may exist.
To get in contact with Geoff, you can email him here or call him at 813.888.8882.
UPDATE: Geoff recently found some more photos of the cars and we thought it would be a good idea to update this post with them. They are, after all, pretty damned incredible.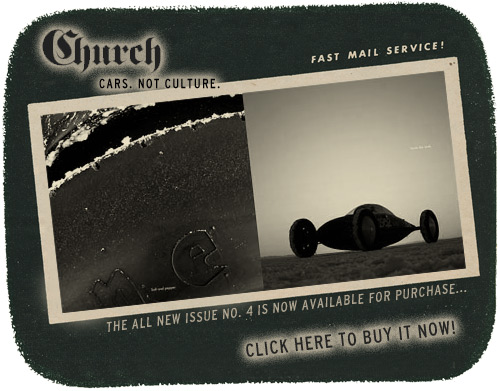 41

Comments on the H.A.M.B.