The Burk Roadster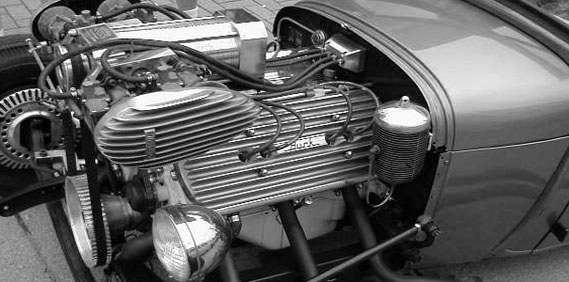 When Ryan mentioned the cheese-filled B-Movie The Giant Gila Monster a few weeks back, one car immediately came to mind — Dave Burk's Model 'A' roadster. To some, this may seem like a strange connection, but for you meticulous readers the answer is quite clear.
In the early 2000s, the auto editors of the Consumer Guide teamed up with Don Prieto and Ken Gross to produce a large, coffee-table style book called The Hot Rod Chronicle. And I kid you not; those 144 pages were critical in answering all of the questions I could produce in my 10-year-old mind. Towards the end, there was a short section about a sapphire-blue Model 'A' that, according to the text, was partially inspired by the nitroglycerine-filled roadster in The Giant Gila Monster.
Burk built this channeled 1928 Model 'A' roadster during a four-month span in 1993. Starting with a set of reproduction 'A' rails, he combined an underslung setup out back with a drilled suicide axle to create a brutally lowered stance.
There is no doubt that the Latham supercharged flathead is the centerpiece of this home-brewed machine. A blend of scratch-built parts and speed equipment staples artfully come together around the 1950 Ford block, including a pair of Thickstun air cleaners, Vertex Magneto and CNC-machined Burk heads.
The lack of grille shell and gaggle of pipes give the roadster a mechanized, praying mantis-esque persona — almost as if it's a subject of a B-movie itself. And in my mind, that's not such a bad thing.
-Joey Ukrop 
Photos by rasputin and HotRodJosh from this decade-old thread 
28

Comments on the H.A.M.B.