Lincoln Indianapolis Boano Coupe Concept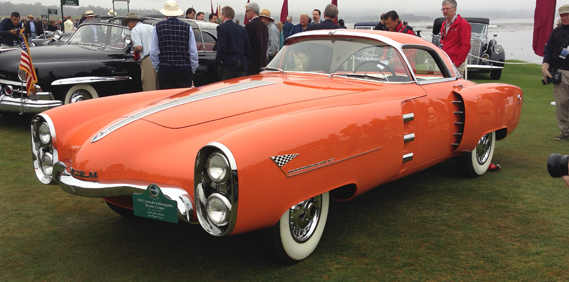 There has been no shortage of epic car-related activities over the past few weeks, and hot on the heels of Bonneville we just had the Woodward Dream Cruise in Detroit, Pebble Beach in Monterey, and a certain event called the HAMB Drags in Joplin, all happening on the same weekend. I realize that 'Pebble' may not be everyone's cup of Grey Poupon, in terms of the car types, the crowd, or the cost of participating, but it's a pretty amazing 4 day weekend if you can keep your mind (and your pocketbook!) open. With so many collector auctions, historic races and car shows happening, it's easy to get overwhelmed and geeked-out. I saw everybody from George Barris, Roy Brizio, Cole Foster, Adam Corolla and Jay Leno milling about various gearhead events all weekend long. Over at the well-trampled lawn of Concours d'Elegance on Sunday I laid eyes on the wild 1955 Lincoln Indianapolis Boano Coupe, which was both strange and beautiful, restored to it's glowing-orange perfection. Photos don't do this Turin-designed concept real justice, but you could stare at it for an hour and see more intricate details and aviation theming around the entire bizarre car. Button-activated hidden dash panel, air scoop doors, and triple non-functioning chrome exhaust pipes coming out of the front fenders? One thing you could not call her was subtle, and a number of people felt the Lincoln should have taken the 'Best in Show' top honors, rather than the more predictable '34 Packard that won. The rumor is that Edsel II bought the Indianapolis Coupe right off the lawn at Pebble this weekend, just to get it back in Ford family hands, since his father Henry II is the one who commissioned it to be built in the first place.
27

Comments on the H.A.M.B.